Roll over image to zoom in

Description
🌎 Exclusively on Ooala.com
✈️ 5-10 day global shipping
📦 Returns accepted within 30 days
🌻 Silicone Material Health and Safety. Our face scrubber is made of food grade silicone material. It is environmentally friendly and reusable. It can be cleaned without any damage to the skin and is suitable for sensitive greasy dry and all kinds of skin. Men, women, and children can use it with confidence.
🌻 Significant Effect. Gently scrub your face, it is easy to create foamy later. It is easy to clean the stains and exfoliation of the skin surface. Not only can it have the effect of massage, but it can also deepen the blackheads and promote skin breathing. Can also be used for makeup removal.
🌻Advantages of Shape Design. Flat face exfoliator scrubber surface is very good for skin fit. Soft and delicate silicone bristles protect the skin while cleaning stains, and also play a role in massage to promote facial blood circulation, very comfortable. The raised handle is suitable for all kinds of finger grips, which is very convenient.
🌻Used in Various Occasions. Our facial cleansing brush can be used to clean the face, can also be used for female makeup remover, and can also wash the baby's hair. When traveling out, it can be easily carried and does not occupy the place. A must-have for home travel.
🌻Easy to Clean and Dry. Our face brushes are easy to use and easy to clean. After use, it only needs to be rinsed with water, and the water will flow out along the gap between the bristles and will dry quickly. It can also be machine washed.Unique cool fun Christmas gift present for girl sister friend women or men.
PRODUCT DETAILS
Durable and not deformed
Food grade silicone material has a speed of natural drying, no deformation, no residue and durable use. It will not cause irritation while cleaning your face with our silicone face cleanser pads.
Small size and two different bristles
Tiny Bristles: Used for cleaning sensitive parts of the face such as the corner of eyes, the edges of nose...etc.
Coarse Bristles: Remove blackheads and dirt in the pores, exfoliating and remove dead skin cells, soften the skin ,massage your face, enhance facial blood circulation.
Suction cup on the back
The handle is for putting it between your fingers so you can get a better grip and it's  easy to handle. The sticking part/suction cup only works if you stick it to the mirror or glass. 
Portable and lightweight, convenient to carry
Our face scrubber is small in size, lightweight and portable, making it convenient to carry and easier to use. No need for electricity, just take it to do an easy clean operation.
Specifications:
Material: silicone
Size: 5 cm x 6.5 cm x 1.5 cm/ 2 inch x 2.6 inch x 0.6 inch
Payment & Security
Your payment information is processed securely. We do not store credit card details nor have access to your credit card information.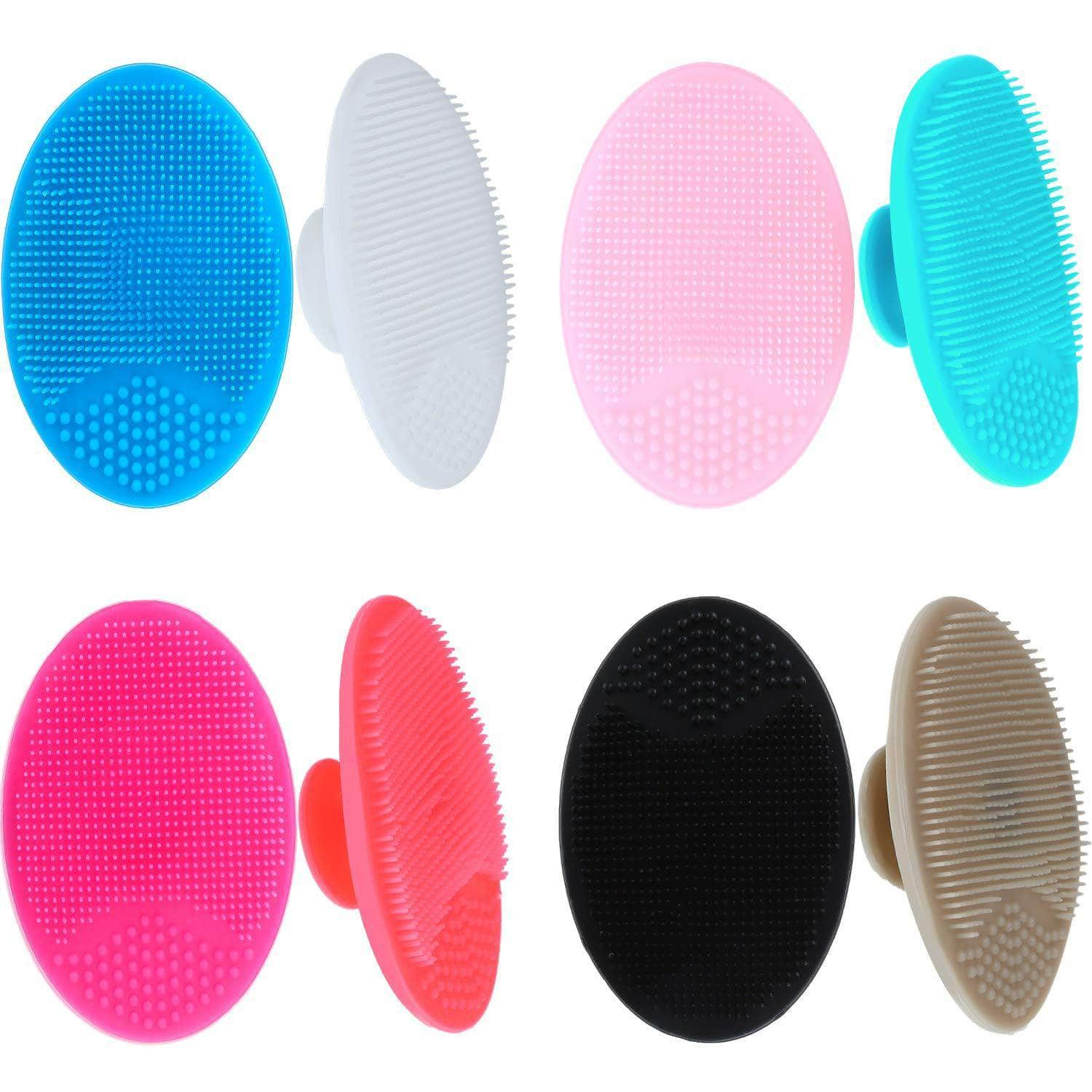 Acneella Silicone Face Scrubber, Exfoliator Face Cleansing Pads