Roll over image to zoom in

Description
🌎 Exclusively on Ooala.com
✈️ 5-10 day global shipping
📦 Returns accepted within 30 days
👧 Fine particles that allow you to experience a gentle and comfortable smooth touch. Help dry skin, hydrates, and nourishes. Gentle care for delicate skin.

👧 Does everything a body scrub should do and more Fine grain, nutrients and skin softeners will transform your skin making it soft and healthy. Helps reduce the appearance of cellulite, stretch marks, dark spots & acne scars. Great for ashy elbows and knees. Ingrown hairs don't stand a chance! You'll love the cucumber aroma!

👧 There is always that one person in your group of friends who seems to have the best skin that looks silky, soft, and radiant. This person gets non-stop compliments, and everyone wonders how they do it. Now it's YOUR TURN to be that person.

👧 Instant Benefits: Baby Soft, Polished Smooth, Cleared Pores & Fresh Glow.

👧 Long-Term Benefits: Stronger, Firmer, More even-toned Skin, Help Cellulite, Keratosis Pilaris (skin bumps) Conditions & Age Defense.
PRODUCT DETAILS 
Product Overview

Exfoliate - fine grain, mineral-rich, 100% pure dead sea salt (gentle but powerful)
Cleanse - organic essential oils work like microscopic cleansing agents
Nourish - nutrient-dense ingredients feed your precious skin
Moisturize - infused with skin softening oils and butter results in ultra-soft & smooth skin
The Almond aroma is so refreshing!

You will love the almond aroma and best of all, it's all-natural and derived from the pure almond oil. So, you can feel great knowing there is no artificial perfumes, dyes, or fragrances seeping into your skin.
Regular exfoliation using our body scrub may also help reduce the appearance of cellulite, stretch marks, dark spots, acne scars, ingrown hair, psoriasis, and eczema.
Payment & Security
Your payment information is processed securely. We do not store credit card details nor have access to your credit card information.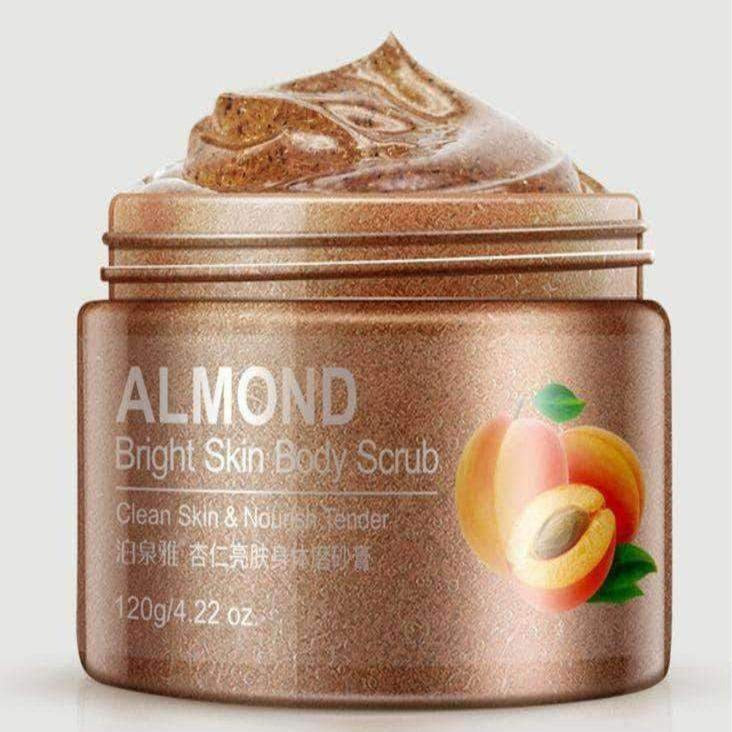 Lush Almond Skin Care Scrub / Body Exfoliating Cream