Roll over image to zoom in







Description
🌎 Exclusively on Ooala.com
✈️ 5-10 day global shipping
📦 Returns accepted within 30 days
🖍️33 Pieces of Sketch Pencil Set - Including graphite, charcoal, soft pencils, sketch paper, and eraser. The most suitable pencil tool for drawing, sketching and writing to meet the needs of sketch beginners and professionals.
🖍️Pencil Set for Professional Artists - including 12 x sketch drawing pencils, a pencil, 3 charcoal pens as well as sharpeners, graphite rods, and pencil knives. Pencils are made of rough wood, which is safe and non-toxic and easy for writing, cutting, and erasing.
🖍️Suitable for all kinds of people to use - Whether you are art amateurs, college students, painting beginners or professional painters, sketching pencils set can meet the requirements of your painting equipment.
🖍️Portable Handbag - All the tools are loaded in a small handbag, which is easy for storing and saving users' drawing pencils and tools occupying less space. The handbag can be easily put into users' schoolbags to meet their desire to take it with them and save space.
🖍️Eco-friendly and non-toxic - Our pencil raw material is made of crude wood, and the pencil lead is also harmless to the human body, so even the child can use this set without worry about the lead poisoning.
PRODUCT DETAILS
Either you are a professional sketcher or sketching beginner, the professional sketch toolset can be satisfied with your different sketching requirements.
This professional sketch toolset is an exercise in light, dark, and shading. Unlike other sketching toolsets, the set requires a fixative to ensure the quality of your work. 
With the zippered carry case, it's very easy to take everywhere. 
Professional Drawing Toolset
Everyone has artistic potential, and you need the right tools to achieve this potential. The sketch set is comfort, high-quality and durable, allowing you to gain expert-level shadow effects by these reliable and durable tools. 
Specifications

Graphite, Charcoal, Color Pencil Length: 17.5cm(6.9in)
Paper Stump Length: 15cm(large), 12.5cm(small)
Pencil Extender Length: 13.5cm(5.3in)
Cutter Length: 12.5cm(4.9in)
Packing Bag Color: Black
Bag Folded Size: 24.5*21*3cm/9.6*8.2*1.1in
Bag Unfolded Size: 50*21*2cm/19.6*8.2*0.7in
Package Includes:
1 x Oxford Cloth Packing Bag
12 x Sketching Pencils (8B,6B,5B,4B,3B,2B,B,HB,2h,3h,4h,5h)
3 x Charcoal Pencil (soft, medium, hard)
3 x Paper Stumps
3 x Charcoal Sticks
3 x Graphite Sticks
1 x Graphite Pencil (6b)
1 x Metal Pencil Sharpener
1 x Plastic Pencil Sharpener
1 x Metal Cutter
1 x Pencil Extender
1 x Eraser
1 x Kneaded Eraser
1 x Sandpaper Block
Payment & Security
Your payment information is processed securely. We do not store credit card details nor have access to your credit card information.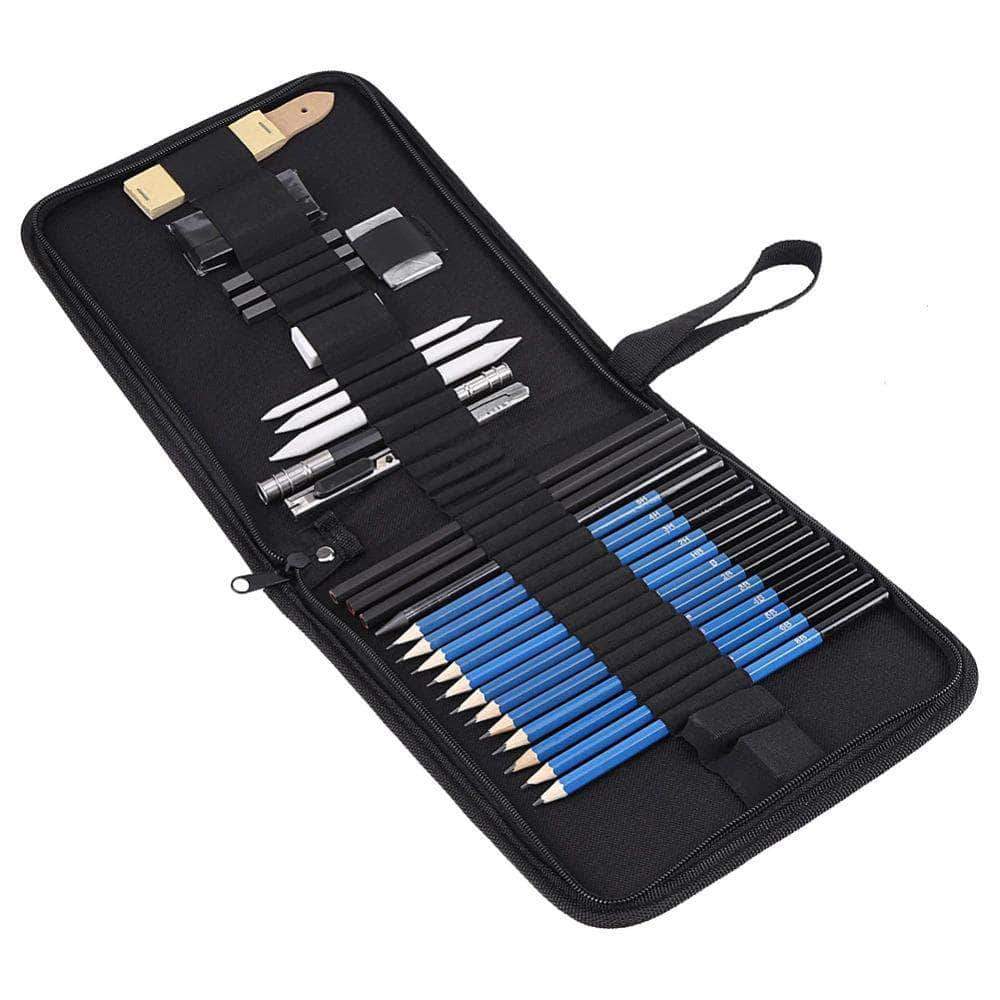 DrawBee 33 Pcs Professional Art Kit with Charcoal and Graphite Pencils for Drawing