Roll over image to zoom in

Description
🌎 Exclusively on Ooala.com
✈️ 5-10 day global shipping
📦 Returns accepted within 30 days
🎨 Ultimate performance for artist – Highest premium quality raw materials are specially selected to manufacture our premium quality acrylic paint set that outperforms the many alternatives in the market. They are uniquely formulated to bring out the maximum brilliance and color clarity with a buttery consistency for easy mixing and blending.
🎨 Lasting vibrant colors – These 12 rich highest quality and non-toxic acrylic colors are bright and crisp with fast drying capabilities and a smooth pudding-like texture. These paints will flow with your brush to create vivid textured work that will spring with life and will last forever on your canvas.
🎨 Color blending – Our acrylic paints blend, layer, and mix well to produce an array of unlimited shade for any project. Each paint has a fantastic thick consistency which will retain brush or spatula marks and give your work brilliant texture.
🎨 Easy to use and smooth application – This clever paint is specially formulated to give aspiring and accomplished artists alike a medium that delivers bright, lasting results without the headaches (and clutter!) associated with oils. Simply squeeze the paint directly from the tube or thin with water for finer details and layering.
🎨 Ultimate art kit – Adults and kids love the versatility of our acrylics. From canvas art, painting, scrapbooking and even nails, you will never ever need another paint set to pursue your passion! They are suitable for most paintable surfaces including stretched canvas, wood, glass, fabric, plastic, craft foam, ceramic, decorative wallpaper, blackboard easel, paper, and more.
PRODUCT DETAILS
Product Overview
A wide range of vivid & vibrant colors is available in our 12 pc. acrylic paint set. These eye-catching pigments will help inspire you to continue bringing your artistic ideas to life. It includes all the essential colors to help you add a pop of color to any artwork.
Specifications:
Colors: White, Lemon Yellow, Low Ochre, Vermillion, Red Cadmium, Ever Green, Mineral Green, Sky Blue, Ultramarine, Dark Brown, Ocher, Black
Content: 6mL each tube
Package Includes:
12 x acrylic paint tube
1 x brush
Payment & Security
Your payment information is processed securely. We do not store credit card details nor have access to your credit card information.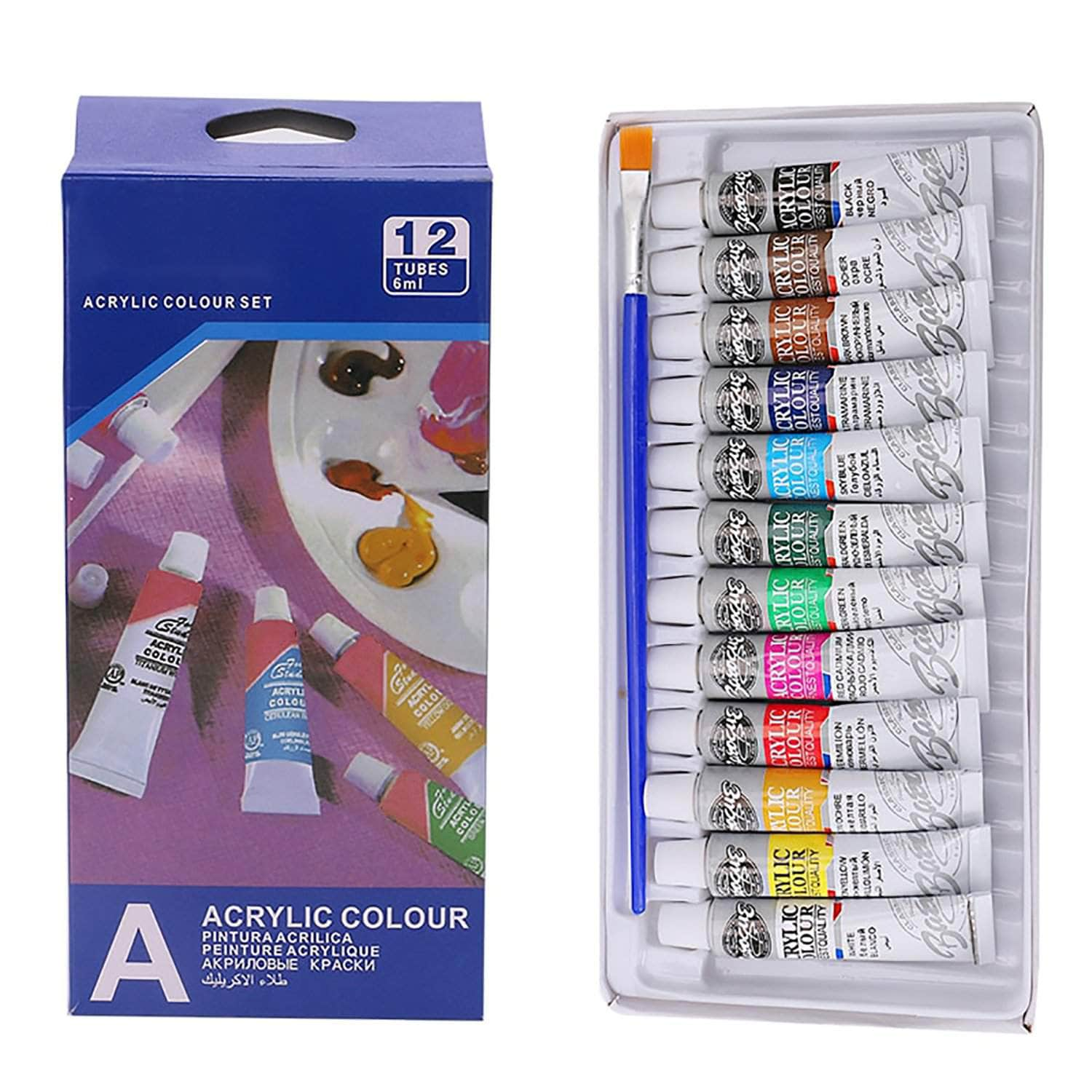 SplashTone 12 Colors Acrylic Paint Set for Canvas, Wood & Ceramic | Rich Pigments for Artist