Roll over image to zoom in

Description
🌎 Exclusively on Ooala.com
✈️ 5-10 day global shipping
📦 Returns accepted within 30 days
👩 415 NM Blue Light for Removing Acne – Special 415nm blue light design will experience the maximum reduction in acne and reduce the excretion of oil and shrink pores. After using 8 times (2 times every week) or more, your skin will become more and more healthy. Blue light can firm flabby skin, shrink skin pores, effectively kill corynebacterium acnes and markedly improve red spot, oily skin, and severely sensitive skin.
👩 42° warm - Promote acceptable acne skin evaporation, to solve the problem of acne from the roots, keeping the skin clean, you can have it directly on your skin and it would only be warm never hot. 
👩 Bio Anti-inflammatory - Activate skin cell and stimulate regeneration and repair of collagen, help to regain skin elasticity and its normal metabolism, revitalize the cells and make the skin be fleshy, full and lustrous, anti-inflammation and reduce pain.
👩 Portable - Can be used anytime and anywhere just holds it on the blemish with light pressure. You put it right on your skin but you don't have to press hard.
👩 Convenient - The pimple under the surface of the skin, you use it when you feel a pimple coming on or if you have one.
PRODUCT DETAILS
Product Overview
• Solve the problem of acne from the roots
• Promote a combination of protein and bone collagen
• Activate and tighten the loosen skin
Specifications
Input voltage: 1.5V
Output voltage: +/- 5V
Temperature: 42 ℃
Product size: 135*19 mm
Product weight: 24.8 g
Battery: 1*AA (not included)
How to use
1. Install AA battery before use.
2. Apply preferred face serum and mask after face cleaning.
3. Push up the switch to start the device. The blue light head will give out pure blue light with slight hot with a sound which indicates the treatment starts, after 1 min, it will be at 107℉.
4. Hold the conductive bar, blue light, and BIO head will output +/- 5V BIO current and blue light together, move the blue light head on the skin which requests treatment, follow below operation method with irradiation of blue light: from inside to outside and from bottom to top along the direction of the muscle and lymph slowly.
5. It will remind with a sound in every 5s during treatment, 2.5 min as a course. After 5 seconds, a new course starts again. Adjust the treatment time according to your skin type, for normal skin, 10 min preferred.
Special Tips
• Gain better effect if using with toner.
• 
Hold the conductive bar which will form the current flow with the body.
• 
Please do not place the device in places with water or high moisture, otherwise, it may cause fire and short circuits.
• 
Do not use this device on babies or children.
• 
Pregnant people or people with heart diseases are forbidden to use.
• 
If it does not use this device for a long time, please take out the battery.
Package Includes
1 x Main Device (No battery included)
1 x User Manual
Payment & Security
Your payment information is processed securely. We do not store credit card details nor have access to your credit card information.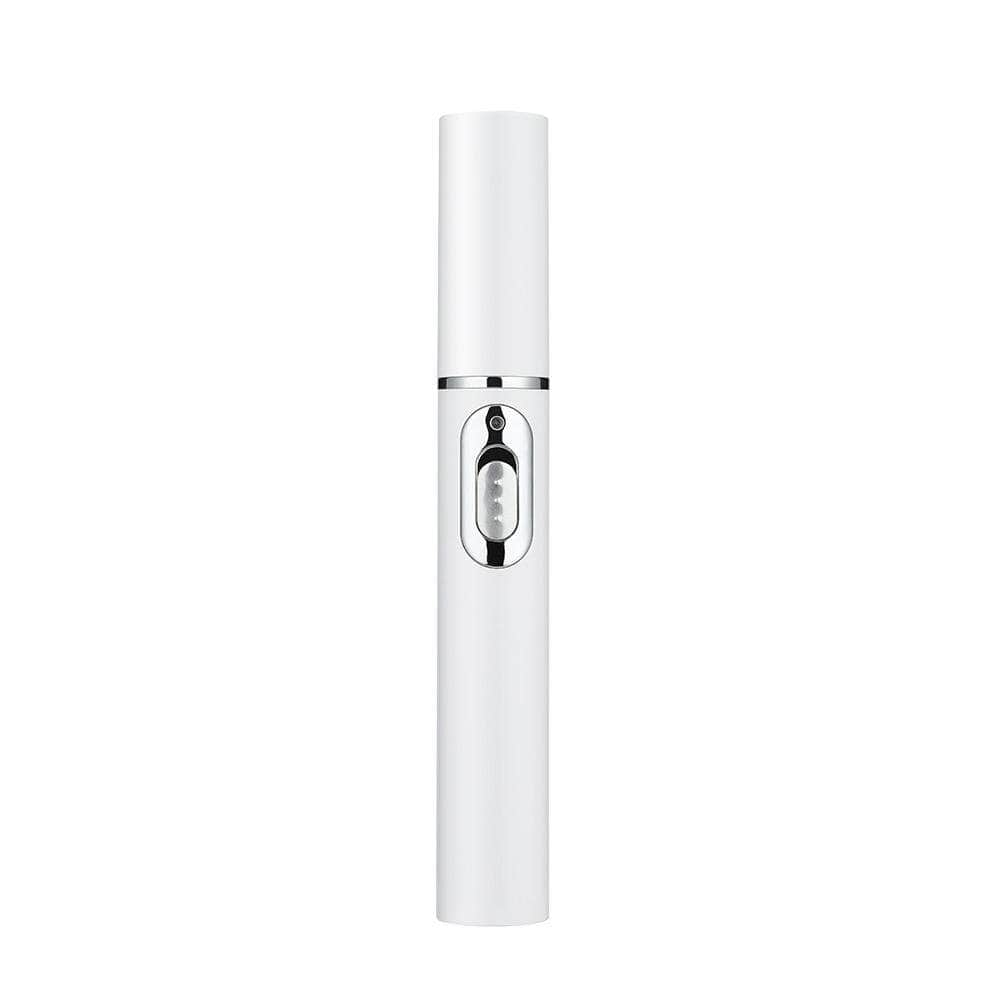 Biogics Acne Scar Removal Pen | Tightening Facial Skin Care Tool for Women and Men