Roll over image to zoom in








Description
🌎 Exclusively on Ooala.com
✈️ 5-10 day global shipping
📦 Returns accepted within 30 days
💎 A bead is a small decorative piece that is used for creating necklaces, bracelets and an assortment of decorative gowns and attires. The artistic appeal of beads has made them extremely popular among many cultures and the fashion industry.
💎 Beads are used as clothing accessories which greatly add to the eye-appeal and the value of the clothing or item. Bead embellishments are done on bags, jackets, tops , brooches, pendants, purses belts,hats and even shoes
💎 More people are now using beads as a material for decorating household ornaments or art that they create, too. For example, boxes, crafts, bird feeders, door knobs and even drawers, are being decorated as amateur artistry.
💎 Beads have diverse purpose and meaning in modern and historical cultures throughout the world. Due to their versatility and visual appeal, beads have and continue to be a commonly made and sold item anywhere in the world. They come in varying shapes and sizes and have occupied its own niche in the world of arts and crafts.
💎 Rondelles are the type of beads which are mostly used for making jewelry. These beads are widely used between two precious beads. These beads are sparkling and really attractive to eyes. You can see a widespread usage of rondelle beads in jewelry pieces like necklace, bracelet, earrings etc.
PRODUCT DETAILS
Bead Size: 4.3 cm
Color Options:
Midnight Mix (assorted metallic midnight colors)
Note:  There might be slight differences in color shades and bead shape and size due to manufacturing of small pieces.
Quantity: 135 pieces per set
Payment & Security
Your payment information is processed securely. We do not store credit card details nor have access to your credit card information.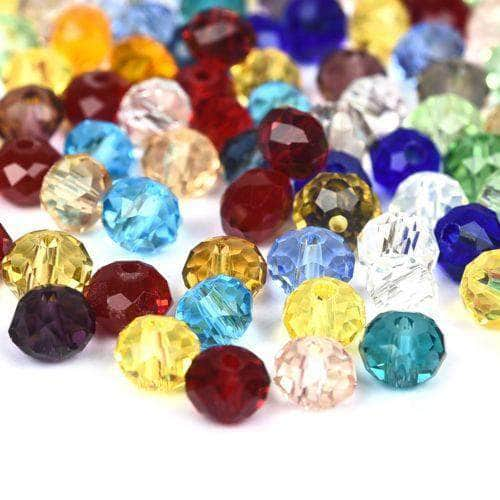 Artsy Crystal Beads, Connectors Spacers for Jewelry-Making, Earring, Necklace, Bracelet, Accessories