Roll over image to zoom in








Description
🌎 Exclusively on Ooala.com
✈️ 5-10 day global shipping
📦 Returns accepted within 30 days
👩  Coffee Bean Scrub is natural and specifically formulated for cellulite, stretch marks, spider veins, acne, age spots & eczema with caffeine from only the best Arabica beans; blended together with highly moisturizing, regenerating & exfoliating oils & salts; for men and woman.
👩  Caffeine present in this premium scrubber is known to help stimulate blood flow and help reduce the appearance of cellulite, eczema, stretch marks, and age spots; Caffeine is commonly used in cellulite creams
👩  Safety Warning: External Use Only; Keep out of the reach of children and pets: Possible skin Sensitivity - Use a little amount first on a small area (inside of your elbow areas) to test; Discontinue use if uncomfortable or if irritation occurs; Avoid contact with eyes; Consult your physician before using on the spots with injury, burns, eczema, or dermatitis; If you are pregnant, nursing, or under a doctor's care, consult your physician before using this product
👩 This is a natural exfoliating skin scrub exfoliates away dead skin and other debris from the skin's surface and pores making this face and body scrub the best natural exfoliant.
👩 Black Bean Coffee Scrub is cruelty-free and not tested on animals
PRODUCT DETAILS
Coffee is so delicious that you just want to scrub down with it and YOU SHOULD!
This body scrub is derived from 100% pure Coffee. If one of your guilty pleasures in life is ripping open a bag of freshly roasted coffee beans and lingering in the scent a little too long, this is for you.
Yes, Coffee Exfoliates!
Coffee, with its uniquely soft, granulated texture, applied to the face in the form of an exfoliating scrub will truly enhance, invigorate and revitalize your skin.
Reduce the Appearance of Cellulite!
The caffeine in coffee stimulates circulation and improving blood flow. This reduces the appearance of cellulite and stretch marks. This also applies to wrinkles and fine lines!
Antioxidant Protection
Coffee contains antioxidant properties that protect the skin from free radicals caused by the sun, dirt, and stress. Coffee also removes these impurities from the skin, slowing down the skin's aging process.
Preparation
Stand in the shower or bath to dampen the skin and scoop a palm-full of salt scrub per area.
Scrub Up
Work the salt scrub in gentle upward circular movements over each area.
Rinse
Rinse off thoroughly in the shower or soak away in the bath to leave skin soft and smooth.
Payment & Security
Your payment information is processed securely. We do not store credit card details nor have access to your credit card information.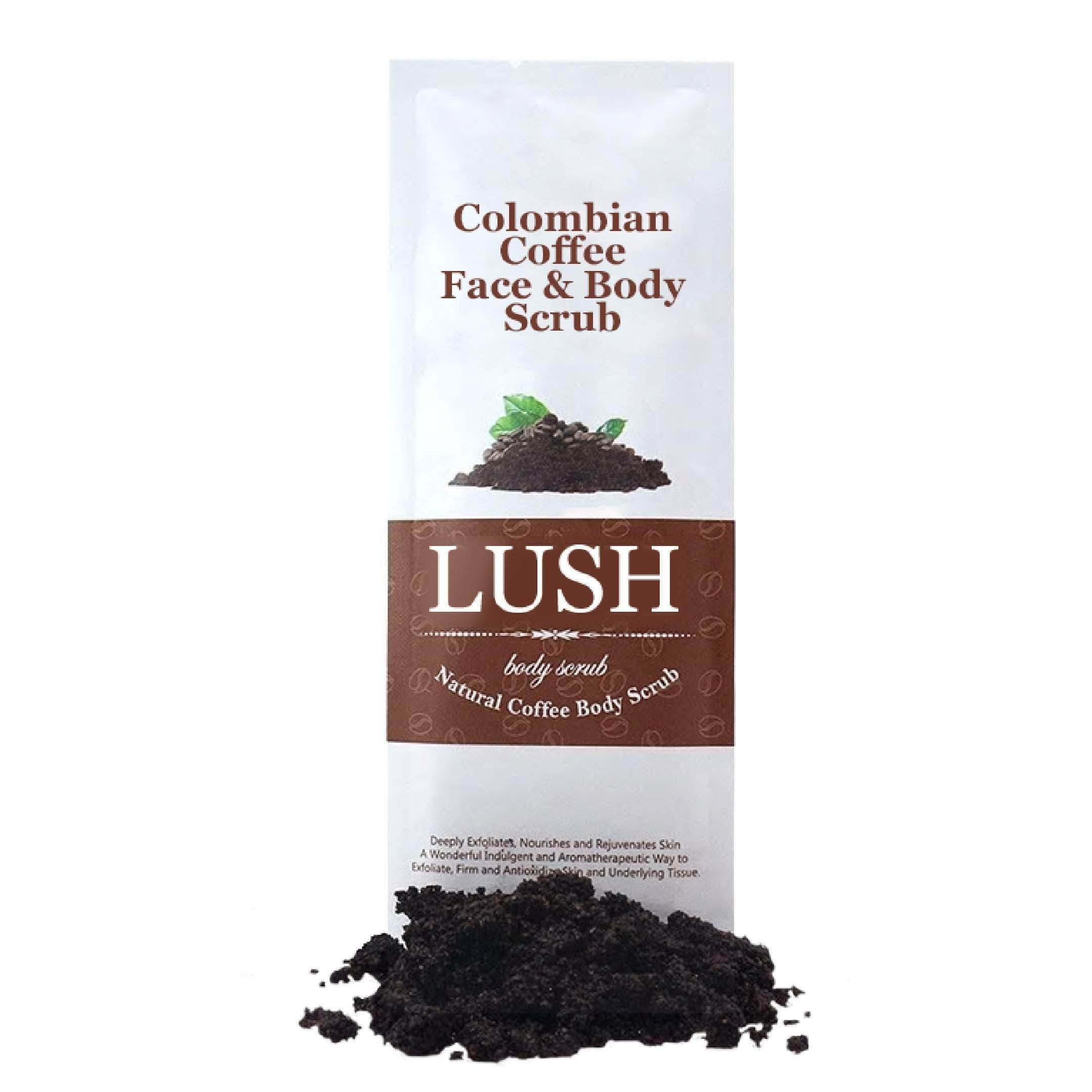 Lush Exfoliating Coffee Body Scrub