Roll over image to zoom in







Description
🌎 Exclusively on Ooala.com
✈️ 5-10 day global shipping
📦 Returns accepted within 30 days
🐧The Penguin and Duck Egg Squirt Bath Toy Comes With Unique Design That You Will Love. Entertain your little one with cute tub animal toys that will make them want to take a bath every day. Bjird Penguin and Duck Egg Squirt Bath Toy is part of our cool bird animal collection of bath buddies and makes any water activity a joyous one. Ideally suited for the bath, swimming pool, or the beach. Designed with lively colors & crafted with a perfect size for little hands to hold & squeeze.
🐧The Penguin and Duck Egg Squirt Bath Toy Is For Kids Who Love To Play In The Water. Make your kids look forward to bathtime! Bath squirties are perfect floating toys for kids who enjoy spending time in the water. A fun toy to play & share with siblings & friends in a tub or pool. Perfect for parents who want to make bath time fun & educational learning experience for their children. Ideal gift for expecting mothers or a giveaway party favor in a children's party.
🐧High-Quality Water Baby Toys. Our squirting toy is a floating bathtub or pool toy, made of superior environmental-friendly ABS material, the surface of this bath penguin and duck egg is very smooth without burrs that mother doesn't have to worry about the child getting hurt. This toy is durable, lightweight, & is colored with non-toxic materials, which makes it safer & easier for children to play in the shower or while enjoying a swim. 
🐧Ideal Use For Bath Squirt Toys. Cute animal bathtub toys or bathing toys are great for educating little children & expanding their knowledge about animals & colors. Perfectly sized baby tub toy that can be played within the bathtub, pool, or beach for endless fun & can also be played outdoors during imaginative pretend play. Use as cute toy decor for an animal-themed room! Penguin and Duck baby water floats also make cute gifts for little kids.
PRODUCT DETAILS
Instructions
Put the bath eggs in a filled bathtub/bucket/basin and wait for the water to fill the shell. When the eggshell is filled with water, the bath egg will float up. If you pick up the top of the eggshell, then water will flow out like rain.

When the eggshell is filled with water, the broken egg can turn into a water gun, press the head of the duck and it will spray water from its mouth.
There are multiple water outlets at the bottom of the eggshell. When the eggshell is filled with water, the water drops down under the force of gravity.
It is suitable for kids with little hands and lots of fun! Compact and portable, just put it in your bag or even your hand, convenient to carry at any time and anywhere. You kids will love to take showers!
Specifications
Material: Plastic
Plastic Type: ABS
Gender: Unisex
Dimension: D*H: 3.6 x 5.6 IN (9*14 CM)
Age Ranges: 2-4 Years, 13-24 Months & 5-7 Years
Product Includes:
2  Baby Bathtub Toys of egg shape
Payment & Security
Your payment information is processed securely. We do not store credit card details nor have access to your credit card information.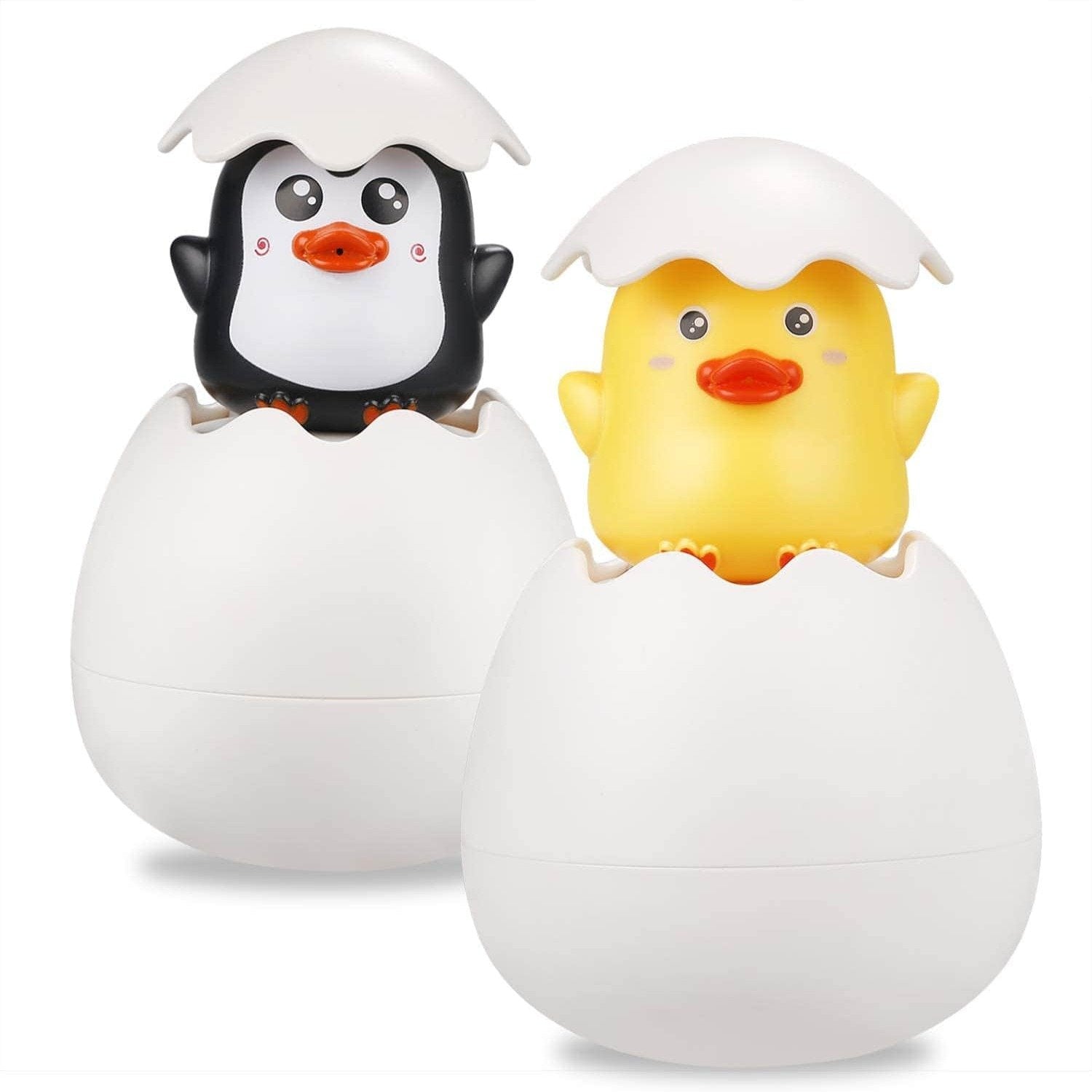 Bjird Penguin and Duck Egg Squirt Bath Toys