Roll over image to zoom in








Description
🌎 Exclusively on Ooala.com
✈️ 5-10 day global shipping
📦 Returns accepted within 30 days
🍴 100% Food Safe and Durable - This stackable lunch box interior is made of high-quality food-grade stainless steel and PP material exterior, never rust, safe and non-toxic. So you can use it over & over again.
🍴 Keep Warm - Can keep your food warm up to 2-3 hours. But please be aware that there are a couple of things that will affect the insulation: (1), the amount of food in the lunch box. If the food is less than 3/4 of the lunch box, it may reduce the insulation capability. (2), the original temperature of the food put in the lunch box. We suggest heating the food to a temperature high enough in order to provide a good insulation result.
🍴 Leak-proof - Each stainless steel container has a plastic lid with a sealed silicone ring that completely prevents food leakage for the stainless steel layer.
🍴 Wide Mouth - The extra-wide mouth can help with easy eating, also easy to fill food into this food jar, and clean after use.
PRODUCT DETAILS
A detachable handle on the bowl lid is portable to carry around when you use the lunch box.
It can be used for hot food such as soup, fried rice, etc. or cold food, such as salad, pasta, fruit, etc. And you can use it for work, school, picnic, camping, workout, etc.
Enjoy your healthy food even outside.
Attention:
1. The stainless steel layer is sealed. The plastic white layer is not sealed.
2. The plastic white layer can be used in the microwave. The stainless steel layer can not.
3. Holding time about 2-3 hours. This time is based on 25 ℃ temperature. Holding time may vary depending on geographical location (mountains, at sea, etc.).
Useful tips:
After washing the lunch box, please let it dry first before putting all the parts back together.

It is NOT recommended for ice/ice cream.

It CANNOT be used in a microwave or dishwasher.

The coupling between layers is tight to prevent leak and spill. After using it a couple of times, it will become smooth.

Please pour in hot water to preheat for 5~10 minutes before packing food.
Additional Details 
Size: 1-layer: 11.5 x 15.5cm
          2-layer: 11.5 x 22.5cm
Capacity: 1-layer: 600ml
                 2-layer: 900ml
Capacity plastic white layer: 150ml
Payment & Security
Your payment information is processed securely. We do not store credit card details nor have access to your credit card information.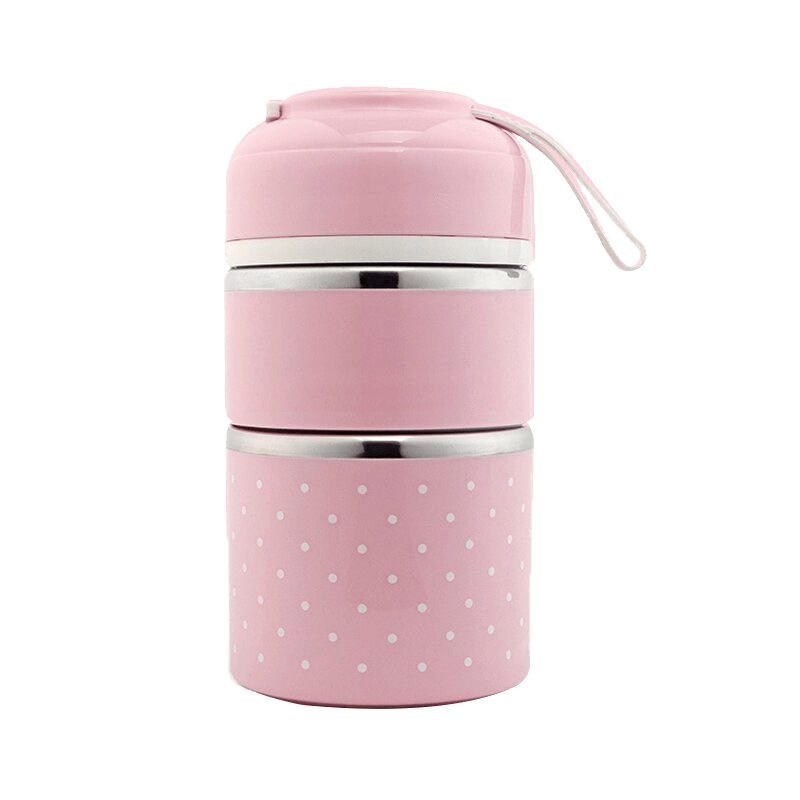 DeepSpoon 2-Layer Stackable Stainless Steel Lunch Box, Japanese Bento Style, Portable and Leak-Proof