Roll over image to zoom in







Description
🌎 Exclusively on Ooala.com
✈️ 5-10 day global shipping
📦 Returns accepted within 30 days
🚴‍♂️Smarter Design. Our cleaner looks similar to some of our competitors but is different in key ways. Other products utilize two clamps on the end- the problem with this is that when the clamps get wet, fluid spurts everywhere. The Physiqo Chain Cleaner utilizes a single clamp in the middle of the device to lock the product together when cleaning.
🚴‍♂️Versatile. Works with all types of bikes- if it has a chain, Physiqo can clean it! For free wheel designs, simply attach the cleaner to the chain and use the pedal to turn the chain. For bikes with coaster brakes, the bicycle must be elevated or flipped over to work.
🚴‍♂️Durable. Made from heavy-duty plastic to ensure a lifetime of superior performance. No flimsy metallic pieces to rust and break away. No useless sponges that fall off after a few uses. Just simple, thorough, rotating scrubbing brushes encased in strong plastic to keep your chains clean.
🚴‍♂️Convenient. Cleaner clips directly to the chain-no need to remove the chain from the bicycle-cleans quickly and easily in just one minute. Simply fill the chamber with your choice of cleaner. Purists insist the best cleaner is mineral spirits and others prefer citrus degreaser- the choice is yours!
PRODUCT DETAILS
The Best Solution for Your Dirty Chains. Say Good-Bye to Slow, Sluggish Performance Once and For All!
Physiqo Bike Chain Cleaner was created to revolutionize how we care for our bike chains. Cleaning your bicycle chains is no longer a messy hassle.
You simply clamp the unit on your bike chain and spin the cranks. Our tool makes it easy to clean chains-in under a minute!
Turning the pedal runs the chain through multiple rotating brushes to knock off grime and cut through any buildup.
Flimsy metallic pieces and useless sponges have been eliminated from our product for the ultimate in simple, professional design.
Our product has everything that's needed to quickly clean your chain, rings, cogs, and pulleys.
It will prolong the life of your drive train and minimize mechanical drag resulting in better performance for both you and your bike!
The Physiqo Chain Cleaner makes quick work of getting into the nooks and crannies found around derailleurs, the cassette, cranks, and chainrings.
Specifications
Main Material: Plastic
Color: Blue
Gross Weight: Approx. 245g
Item Size: Approx. (L*W*H) Chain scrubber: 1.85x5.35x2.83 inches, Chain brush: 22cm Long, Chain gear cleaner: 22cm Long.
Package Includes
1Pc chain scrubber
1Pc chain brush
1Pc chain gear cleaner
Payment & Security
Your payment information is processed securely. We do not store credit card details nor have access to your credit card information.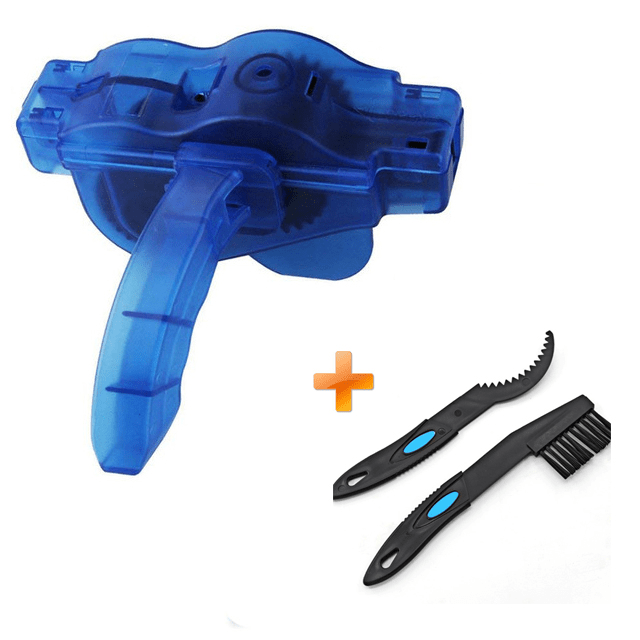 Physiqo Bike Chain Cleaning Tool Scrubber with 2Pcs Bicycle Cleaning Brush