Roll over image to zoom in










Description
🌎 Exclusively on Ooala.com
✈️ 5-10 day global shipping
📦 Returns accepted within 30 days
❤Promote hair growth: Nature drop organic castor oil is used to promote hair growth hence helps thicken eyebrows and eyelashes. Syque Castor Oil deeply penetrates the skin to moisturize and condition, leaving it softer and more supple.
❤Natural healing properties: With its natural healing properties, the sky organics castor oil will give you incredible results as your hair and skin will immediately absorb its nutrients and thus giving you the best transformation in time.
❤High-quality materials: 100% pure cold-pressed castor oil. Hexane-free extraction. Only the best castor seeds are hand-picked and extracted by cold press to preserve the botanical actives and Triple Refined for the highest quality grade.
❤Rich in nutrients: Castor oil is so rich in nutrients and deeply concentrated, hence even a small amount of oil can do wonders for your eyelashes. Applying castor oil in optimum amounts will do wonders in growing your eyebrows as well. Just a mere touch of them in your eyebrows before you sleep is more than enough to thicken them.
❤Make you more beautiful: Know what you're putting on your skin and body. Never compromise when the highest quality natural oil is available today. Our castor oil is abundant in essential omega-6 & omega-9 fatty acids that provide extraordinary benefits for fading fine lines and wrinkles, treating acne, and working towards the hair, lash and brow growth.
PRODUCT DETAILS
Why Our Castor Oil?
Castor beans, when cold-pressed, releases castor oil and all of the nutrients, minerals, and essential fatty acids that it contains. Simply pressing the beans provides a wonderfully luxurious oil, packed full of nutrients. By using this effective cold-press extraction method, it ensures that you get the most out of the castor oil as opposed to using heat or chemicals to extract it which strips the oil of its nutrients and many beneficial compounds are lost in the manufacturing process. That way all the good stuff is passed onto you.
And of course, our passion for empowering beauty from the inside-out helps us formulate products that are:
Hexane-free
Paraben-free
Sulfate-free
Phthalate-free
Gluten-free
Free of GMO ingredients
Free of synthetic dyes

Directions for Use
Use the included applicator kit for easy application and to make sure you get the most out of your product!
Apply the oil to clean hair ensuring eyebrows and lashes are free of makeup.
Using the dropper, dispense one or two drops of castor oil onto the included mascara brush.
Starting with the eyebrows, lightly brush the wand in both directions ensuring the hairs are fully coated.
Apply the remaining oil on the brush to your eyelashes while working from root to tip and applying in thin, light coats.
You can also use the eyeliner brush to collect leftover oil on the mascara brush and apply the oil on the base of both upper and lower lashes - this ensures you get the most out of each drop!
Leave the oil overnight and wash any excess oils in the morning with a mild facial cleanser.
Bonus Hair-hack: Mix 3 tablespoons of coconut oil with a few drops of castor oil to create a lovely hair mask. Massage mixture into your scalp and ends of the hair then leave in overnight. Wash excess oils in the morning to reveal hair that shines!
Specifications
Net content: 15 ml
Essential Oil Type: Compound Essential Oil
Package Includes
1*Eyelash Growth Essential Oil
1*Eyelash brush
Payment & Security
Your payment information is processed securely. We do not store credit card details nor have access to your credit card information.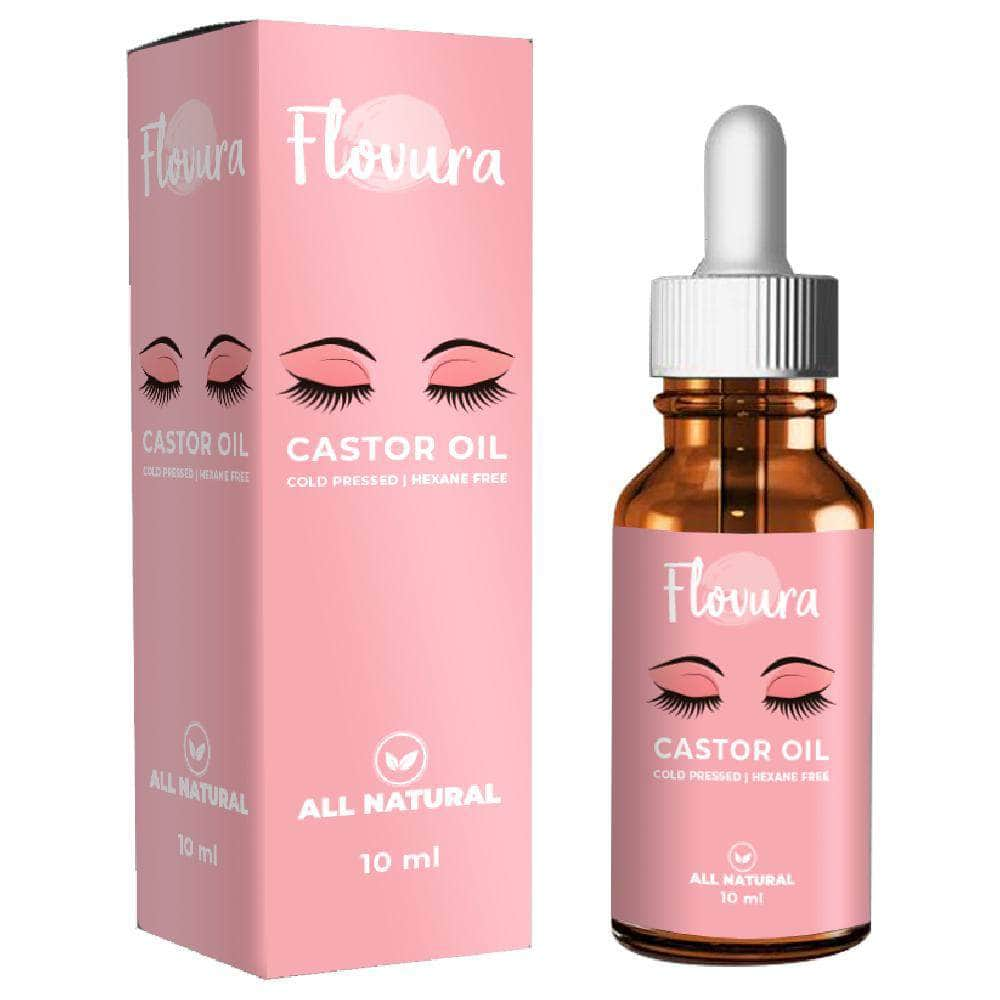 Flovura Castor Oil for Eyelash Growth