Roll over image to zoom in









Description
🌎 Exclusively on Ooala.com
✈️ 5-10 day global shipping
📦 Returns accepted within 30 days
👧🏻 Better Defining eyelash - Lash lift kit is an innovative way to keep lashes curled, which can make you looked charming and younger by increasing curvature and shine of eyelashes, Acquire excellent semi-permanent eyelash curls that will remain for a complete month without the hassle of using your eyelash curler daily.
👧🏻 Professional Quality Eyelashes perm kit is made with only the highest quality ingredients. The eyelashes perm kit is dermatologist tested, hypoallergenic, and is specially formulated using the highest quality, non-irritating ingredients. Natural ingredients will nourish lashes.
👧🏻 Brighter Wide-Eye Look Our eyelash perm kit creates eye-opening, fluttery, and long curls that compliment any look for parties, weddings, and daily makeup.
👧🏻 Economical & Easy to Use large eyelash lift kit, this kit has more value than the others on the market. It's can be used up to 15 times, detailed use instructions to guide you through the whole lash perming process.
👧🏻 Made with premium quality ingredients, safely without any irritation
PRODUCT DETAILS
Product Overview
Imagine waking up to perfectly curled lashes every day without the need to constantly maintain them. This Carteye Lifting Kit using silicon pads to perm your lashes instead of a traditional roller. They're easier to work with and make less of a mess. This Professional Lash Lifting Kit is everything you need to ALWAYS have beautifully curled lashes without needing a curler, eyelash extensions, or mascara.
Why do you choose a lash lift?
1.Economical- acquire Semi-Permanent Curling Perming eyelashes for less money.
2.Easy to use -Easy to operate at home alone. you only need to spend maybe a short afternoon tea time.
3. Long-Lasting - only need once a month. Then wake up every day with beautifully curled dark lashes.
4. Sincere customer service - please feel free to contact us if you have any questions.
How to use it?
1. Use Cleanser solution (#4) to remove the oil, dust, and makeup residue.
Apply the eye pads on the under eyelids to protect our skin from the perming lotion.
3. Select a lift pad that best fits the shape of your eye.
4. Place lift pad over the eyelid and alight it right above your eyelashes.
5. Apply False Lashes Glue onto eyelashes and Lift Pad.
6. Allow the Glue and eyelashes to set onto the Lift Pad for 1 minute.
7. Apply the Perm solution (#1) onto eyelashes, then cover with plastic film for 8-12 minutes.
8. Apply Fixation solution (#2) onto eyelashes, then cover with plastic film for 8-12 minutes.
9. Apply Nutrition solution (#3) to nourish eyelashes.
10. Use Cleanser solution (#4) to clean.
Payment & Security
Your payment information is processed securely. We do not store credit card details nor have access to your credit card information.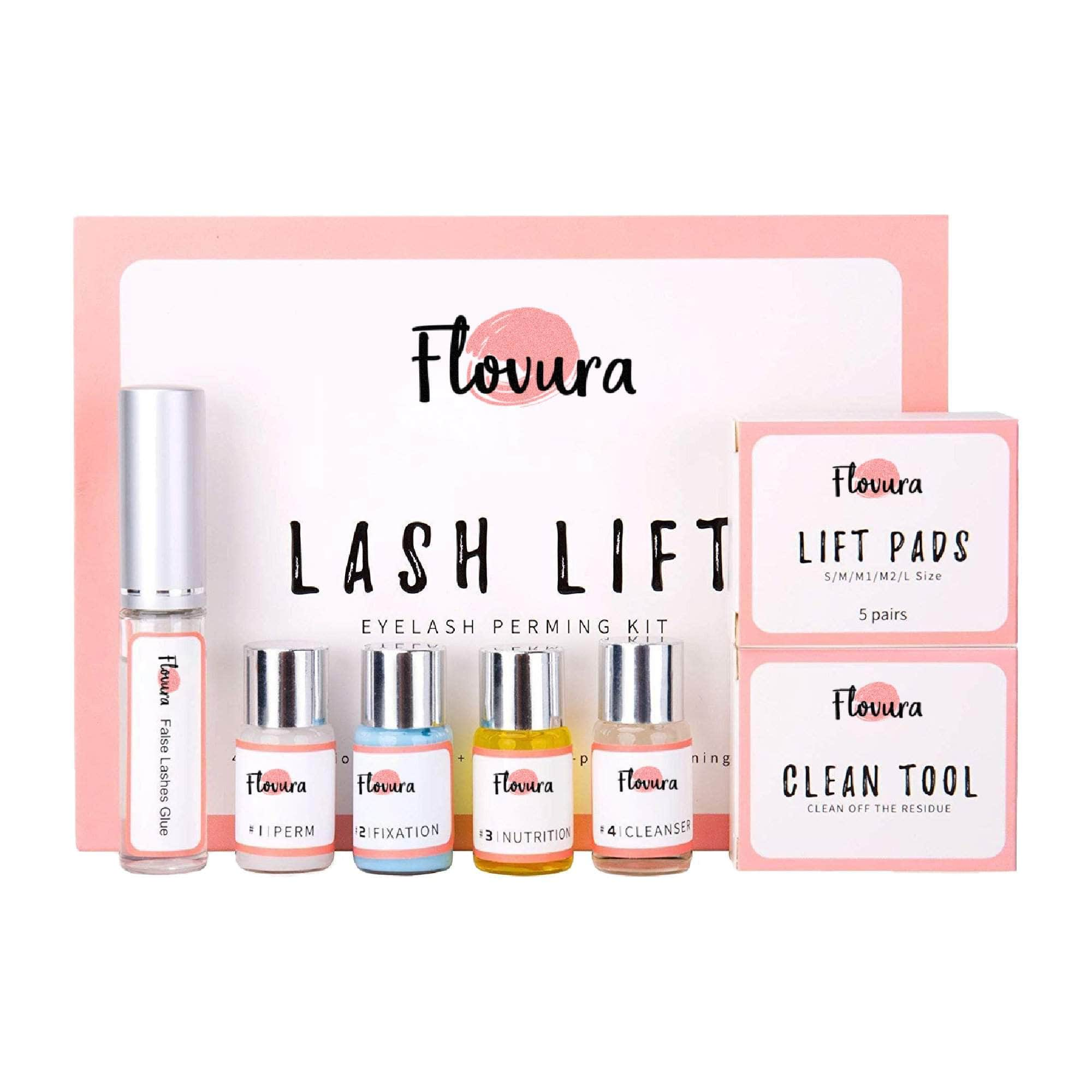 Flovura Professional Eyelash Perming Kit | Lash Curling and Healthy Growth Treatments