Roll over image to zoom in







Description
🌎 Exclusively on Ooala.com
✈️ 5-10 day global shipping
📦 Returns accepted within 30 days
★ Facial Cleansing: Independently double ultrasonic vibration, Quickly and thoroughly clean up dirt blackheads whitehead makeup and corneous aging substance on the skin, effectively cleans pores, removes excess oil, improves skin texture.
★ Moisturizing: With sonic high frequency (280KHz) vibration and mild heating can remove aging corneous, open up skin pores to clean dirt. improves skin metabolism, and allows skin to better absorb the nutrition of skin care products.
★ Facial Lifting: Works better together with skin care products such as deep cleansing oil, cleaning foam, toner, massage cream, essential oil, essence cream, etc. Eliminate your wrinkles, Lifting and lightening skin.
★ Material & Safe: The spatula is made of 100% stainless steel and allows for a professional exfoliation treatment. All devices and panels have been carefully tested and designed with your skin safety in mind.
★ Convenience: Easy to use and easy to carry, One-Key Multifunction, only115g, cordless and chargeable, come with a charging usb cable that can be connect to computer or your cellphone power adapter to charge the device.
PRODUCT DETAILS
Features
Lifting Mode - Massaging on your face with this device helps reduce the appearance of fine lines and wrinkles
Moisturizing Mode - The device helps more readily absorbed nutrients such as Vitamin C or mineral ingredients into the skin
Cleansing Mode - Deep cleansing opens up the pores to remove dirt and impurities, enhances the shedding of the aged and aberrant cells.
How to Use
Step 1. Wash your face with warm water or cream to keep your skin wet. Before the first use, you need to charge the device for 2 hours.
Step 2. Press the button for 3 seconds to turn on the skin scrubber, select the "Cleansing" mode for deepen cleansing function.
Step 3. When you want to improve your skin condition, select "Moisturizing" mode to help skin absorb nutrition.
Step 4. If you need reduce the wrinkles, select "Lifting" mode for lifting your skin.
Warm Tips
When you first use the skin scrubber, press the button for 3 seconds to turn on the device.
If you want turn off the device, press the button for 3 seconds either.
Before using the skin scrubber, you need charge it for about 150 minutes.
It is very important to keep your face wet with cream or hot towel before using the device.
Notice that when charging the device, it can't work.
And you need to avoid sensitive areas on your face.
Description
Material: ABS
Power: 2W
Charging time: About 2.5 hours
Using time: 80 minutes
Charging mode: Rechargeable lithium battery
Weight: 115g
Color: white/black
Payment & Security
Your payment information is processed securely. We do not store credit card details nor have access to your credit card information.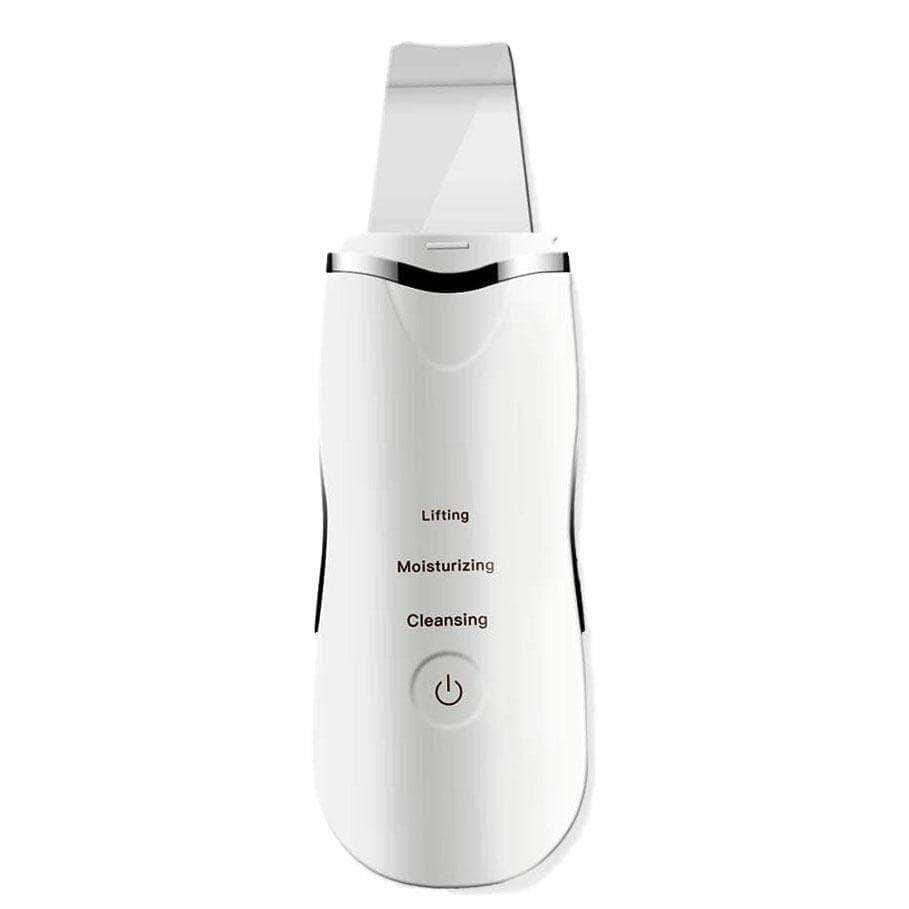 Tuimb Ultrasonic Facial Scrubber Spatula with USB Charger, Face Peeling Deep Cleaning Beauty Device