Roll over image to zoom in







Description
🌎 Exclusively on Ooala.com
✈️ 5-10 day global shipping
📦 Returns accepted within 30 days
✅Easy to use - No assembly needed, step-by-step instructions ensure you're making the best use of our cervical traction unit; with its folding design, it's easy to treat your pain in the comfort of your home or anywhere you go. It's soft, lightweight, and small enough to fit in your suitcase, purse, car, or backpack.
✅Unique design - After inflating the airbag, the entire device is settled in a status that the front side is lower than the back, which makes it much more scientific based on the human body engineering theory. Enjoying the traction at an angle of 15 to 25 degrees can always accomplish the most premium therapeutic effect.
✅Fully adjustable - This cervical pillow is easily adjustable so you can control the amount of air for a comfortable spinal stretch to relax your neck and shoulders. For best results use 2-3 times daily for 30 minutes session each. With a durable big size inflatable ball, the device is expected to work effectively and offer a long service life.
✅Relax your neck - Cervical neck traction device helps increasing blood circulation of the structures of the cervical spine, helps to oxygenate muscles, nerves, tendons, so decreasing pain and promoting relaxation. If you have been in front of the computer, an inflatable neck stretcher collar pillow will take away your neck tightness and will relax you and stretch the neck and shoulder muscles.
✅Practical - Our product is portable, lightweight and so easy to use that you will be able to use it while watching TV, in front of the computer, or walking around your house. Even take it on business travel to decompress after a long day or on vacations. An adjustable inflatable neck device helps to make sure the device perfectly fits your neck and prevent it from sliding down. It is capable of inflating and deflating in a very short time and extremely comfortable to be around your neck. Also, it is durable and washable.
PRODUCT DETAILS
Fits most of the neck sizes. Easy to inflate or squeeze the air out.

Easy to squeeze the air out, foldable design, you can bring it to anywhere you want. No assembly required.

It is specially designed with a controllable air system that helps to relieve pain for those who suffer from neck arthritis, herniated disc, and promote neck injuries recovery.

A durable design and the best quality materials make this a long-lasting neck traction device that you can use safely in the comfort of your own home.
Neck Traction Device Offers Support for:
Neck, head or shoulder pain

Pinched nerves

Herniated, compressed or bulged discs

Cervical neck spasms

Back & spinal decompression

Restoration of a natural cervical curve (neck curve restorer)
Usage Instructions:
1. Wear a portable cervical traction device according to the correct method. First-time users can wear it in front of a mirror, adjust the size of the neck circumference, and fix the front and the middle two fasteners to suit different neck circumferences.
2. Tighten the bleed nut before inflating the ball.
3. Inflate the device balloon until your feeling is right and the symptoms are relieved.
4. Traction fixed treatment at least 2-3 times a day, 30 minutes each time.
Payment & Security
Your payment information is processed securely. We do not store credit card details nor have access to your credit card information.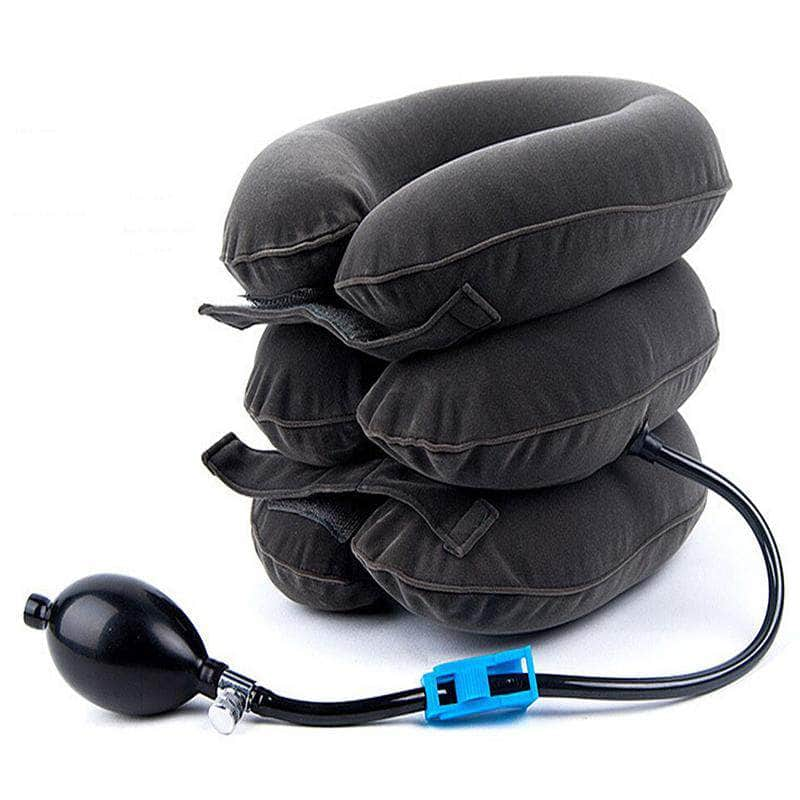 MedicPulse Cervical Neck Traction Device and Collar Brace