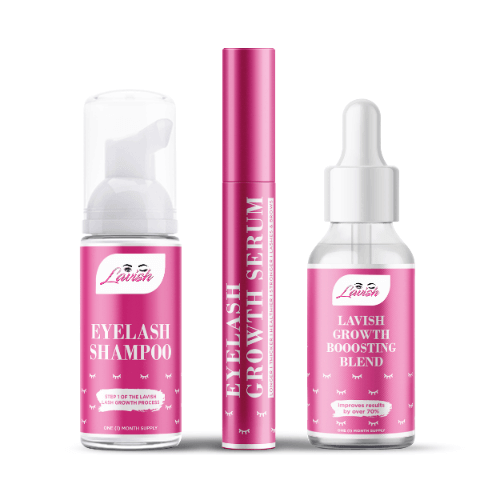 Lavish Eyelash & Brow Growth Kit 💕
💕 Each kit includes 3 products
💕 1 kit lasts 1 month (30 days)

⭐ Over 5,700 five star reviews
🌱 Pure, organic ingredients
✈️ Free 2-day shipping
🔒 Safe, secure checkout
100% Money Back Guarantee

💕 Each kit includes 3 products
💕 1 kit lasts 1 month (30 days)

⭐ Over 5,700 five star reviews
🌱 Pure, organic ingredients
✈️ Free 2-day shipping
🔒 Safe, secure checkout
Just Three Easy Steps, Once Per Day!
It takes less than 60 seconds to complete the entire three step routine, and you only need to do it once per day. Most people make it a part of their nightly skincare routine. Take a look below to read why each product is an important part of the process.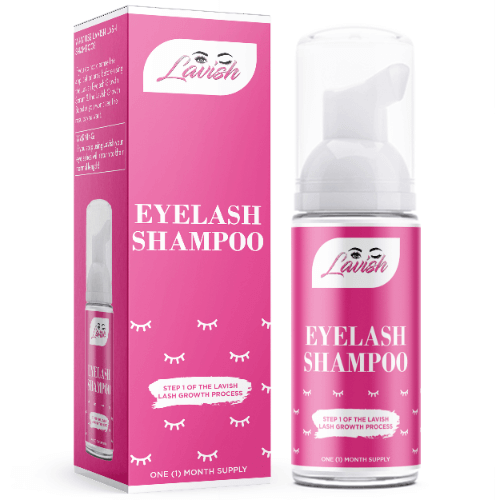 STEP 1: Cleanse
Start by cleansing your lashes with our lavish shampoo. The delicate formula is designed to gently remove cosmetic residues, oils & dirt to strengthen your lashes and prevent them from falling out.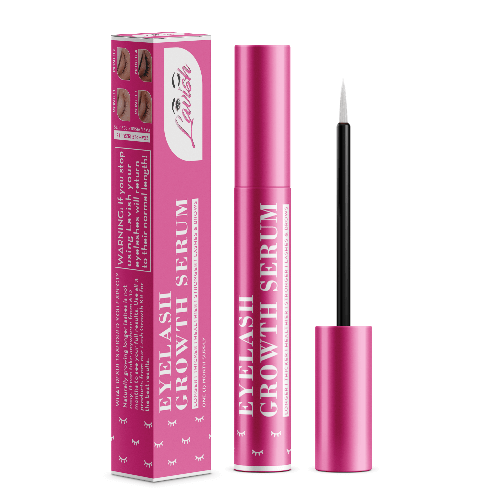 STEP 2: Nourish
Next gently apply 2-3 swipes to your upper and lower lash lines (the roots of your lashes). The powerful serum will slowly sink in, and infuse your lashes with biotin and natural growth peptides.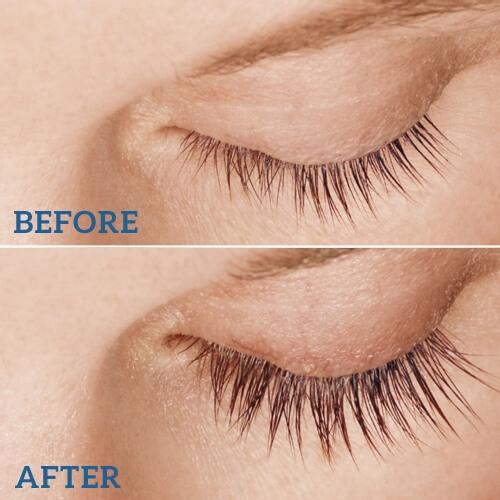 STEP 4: Brag
Lavish is the only 3-step eyelash growth routine in the world. Other brands will say growth serum (step 2) is enough, but with over 5,000 five star reviews the results speak for themselves. Click here to see our reviews!
Fast, clinically proven results

Yup, we clinically tested everything. Here are the results:

91%

saw longer looking lashes

94%

saw healthier looking lashes

97%

saw more visible lashes

97%

felt eyelashes were stronger




So how long does this actually take?

Week 1:

"Am I even doing this right?"

Week 3:

"I think I see something!"

Week 6:

"Hello long, lush lashes!"

Week 9:

"Where has this been all my life?"

Week 12:

"Are these even real?!"




Want to read the reviews? Click here to see the 5,000+ five star reviews Lavish has received.

Longer, thicker looking natural lashes

Our clinically proven 3-step process removes the toxins hurting your lashes, nourishes the root of your lashes, and rapidly boosts eyelash & eyebrow growth.




Other brands just have you put the serum from "step 2" on and wait... and wait, and wait, and wait.... for nothing! Why? Because just using serum doesn't remove the toxins OR boost your growth. That's like saying "You don't need to use facewash if you have acne. Just use our magic lotion." uhm... no. Not gonna fly over here! You need a full process to see results.




The best part about Lavish? It only takes 60 seconds, one time per day. And you'll start to see results in just 14 days!




Don't believe us? According to O (The Oprah Magazine) "The Lavish Lashes three step process is the most innovative thing to happen to lashes since the curler."

Infused with powerful, natural ingredients

We only use pure, organic ingredients that will help your lashes flourish. Some of our more recognized ingredients include our patented plant peptide blend, biotin, castor oil, vitamin C serum, vitamin E serum, and coconut oil.




Want to see the full list? Click here for a detailed description of why each ingredient is so powerful.

Free 2-day shipping (USA, CA, UK, EU)

We have a free shipping special that ends this week! Once the free shipping special has ended the normal $4.95 shipping rate per product will apply.




Shipping Times by Country

United States: 2-3 business days
Canada: 2-3 business days
United Kingdom: 2-3 business days
Any other EU country: 2-4 business days




Don't see your country? Don't worry! The shipping time for countries not included on the above list is 4-10 business days.
Get yours
today

before stock runs out!
Get yours
today

before stock runs out!