Roll over image to zoom in




Description
🌎 Exclusively on Ooala.com
✈️ 5-10 day global shipping
📦 Returns accepted within 30 days
🎗️ Comprehensive & Compact & Portable: This FlexAid 180 pcs kit has a huge variety of quality medical items and almost everything you could wish for with the most competitive price. Packed in a sturdy & soft canvas bag that is flexible enough to squeeze into any small space like backpack or glove box in the car.

🎗️ Well-organized & reasonable internal construction that is designed for easy access and refill. According to the customers' feedback, UPGRADED with new hospital-grade medical supplies that no other first aid kit that's the same size as ours has! It's the perfect combination of medical first aid supplies and emergency preparedness items.

🎗️ Ideal for Road Trips, Hiking, Camping, School, And Home. Perfect for family use and emergency. There is nothing worse than not being prepared & this kit will help you always be prepared.

🎗️ Manufactured in a modern FDA registered facility that provides products for lifeguard agencies, fire departments, hospitals, and schools; All items in this kit are latex-free.

🎗️ If you have any questions, please contact us and we will deal with it immediately. We'd like to offer an all-round service for you.

PRODUCT DETAILS
Product Overview

The kit contains 180 pcs first aid supplies which cover the majority usage in daily accidents.
Internal single side grid design, easy to use, easy to identify the first aid supplies.
In disasters like earthquakes and other real-world emergencies, take first aid measures to save yourself.

Package Included

1 x Red First Aid Bag
1 x Scissors(9cm)
1 x Plastic Tweezers
1 x PBT Elastic Bandage(4.5cm*5m)
1 x PBT Elastic Bandage(4.5cm*7.5m)
54 x Adhesive Stypsis Bandages
30 x Alcohol Pad
4 x Soap Wipe
4 x Sting Relief
4 x Antiseptic Cleansing Wipe
1 x Sterile Gauze Swab(7.5*7.5cm)
1 x Sterile Gauze Swab(5*5cm)
1 x Adhesive Wound Dressing(6*7cm)
1 x Adhesive Wound Dressing(6*10cm)
1 x Adhesive Bandage
2 x Bandage Triangulaire(96cm*96cm*136cm)
1 x Disposable PVC Gloves(1 Pair)
10 x Safety Pins
1 x Cotton Buds
1 x Emergency Blanket(130*210cm)
1 x Burn Dressing(40*60cm)
1 x Rainwear
1 x Versatile Bandages
1 x Green Bandage
1 x Mouth to Mouth Resuscitation Device
Payment & Security
Your payment information is processed securely. We do not store credit card details nor have access to your credit card information.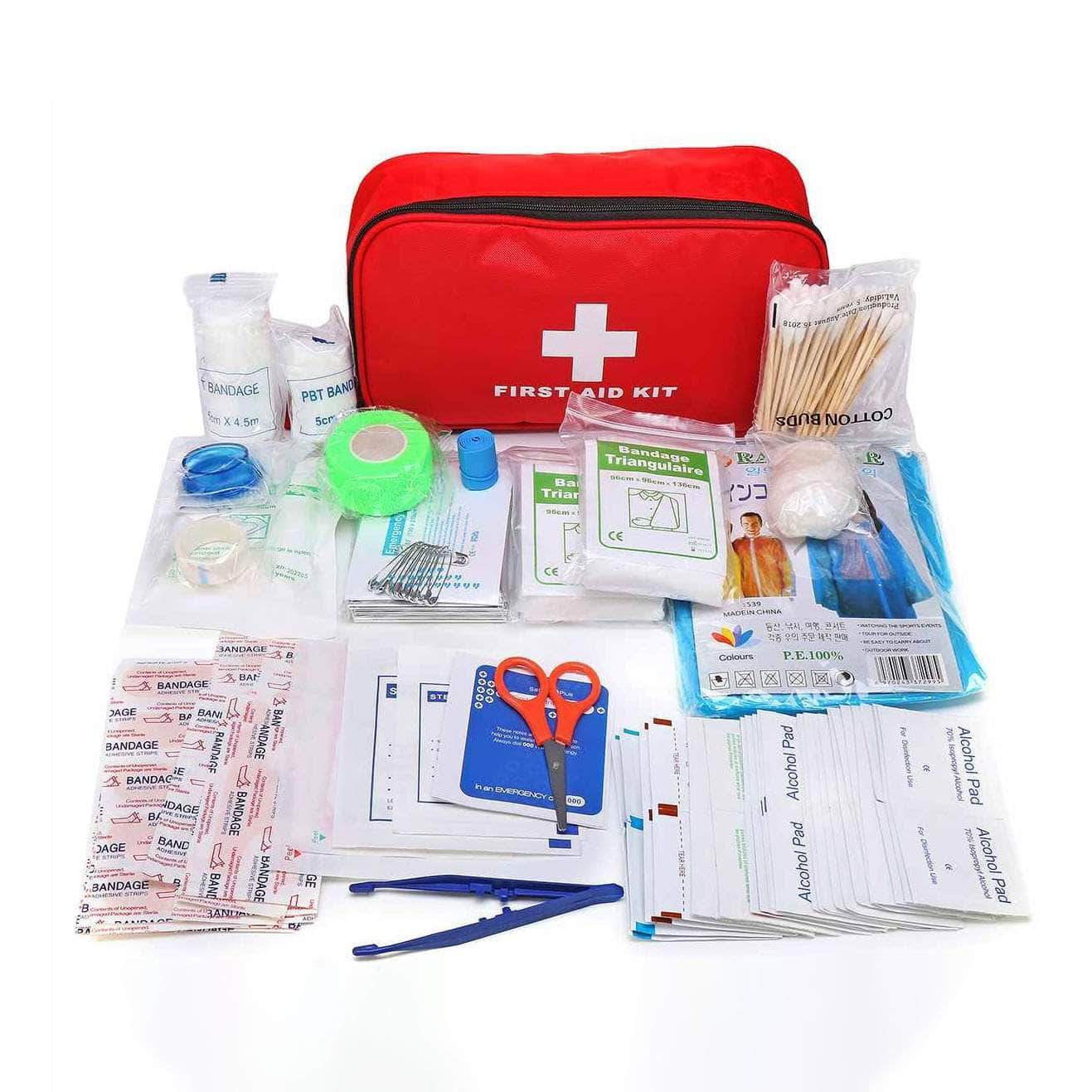 FlexAid 180 Pieces First Aid Kit with Durable and Compact Bag for Home & Outdoors