Roll over image to zoom in









Description
🌎 Exclusively on Ooala.com
✈️ 5-10 day global shipping
📦 Returns accepted within 30 days
🐱 Pet Grooming glove - Great job of picking up pet's shedding hair. Pet gloves prove to be excellent in removing & trapping loose furry pet hair, while grooming the pet quickly, gently and effectively. Hair sticks to the gloves and is easily removed for disposal.
🐱 Enhanced Five Finger Design -  Allows you to groom hard-to-reach places like face, legs, or tail and ensure you don't miss a spot. Gently clean legs, faces, tail Tight body contours, and your hands and fingernails stay clean. One size fits all, it has an adjustable wrist strap for a comfortable fit.
🐱 Healthier Pet glove - Imitating the hand touching to provide a soft and relaxing massage, improves blood circulation. Free from any materials which could cause skin damage; One size fits all, perfect for long, short and curly-haired dogs, cats, horses, bunnies and other pets, grooming the hair quickly, gently and effectively, it has an adjustable wrist strap for a comfortable fit
🐱 Breathable - The back of the glove has a soft mesh design, good ventilation, these gloves are comfortable to wear. Can be used dry or wet, it also can be used to wipe!
🐱 Skin-friendly -  Free from any materials which could cause skin damage; Soft rubber ensure gentle massage and grooming without painful removing of fur or scratching the skin
PRODUCT DETAILS 
Product description
Pets have created the perfect Pet Grooming Glove that makes grooming so much easier, faster, and more convenient. Both you and your pets will love it!
It is truly a dramatic life changer!
You can use our 2-in-1 pet Grooming and Deshedding Gloves on a daily basis. They do not only remove loose hair but also offer your pet a gentle, relaxing massage. Bathing is no longer a challenge! Grooming your pets every day with our gloves, means less fur on your furniture, clothes, or in the car as well as less dander and allergens in the air, creating a cleaner home and healthier life.
Specification
1. Multi-function Grooming Glove
2. Five-Finger Design for Right Hand
3. Enhanced 255 Soft Rubber Tips
4. Breathable and Fast-Drying Mesh Lining
5. Adjustable Velcro Wrist Strap (One Size Fits All)
6. Lightweight and Machine Washable, Easy to Clean
7. Flexible, Slip-On Design, Easy to Use
Product Package
One piece of pet hair remover gloves
Payment & Security
Your payment information is processed securely. We do not store credit card details nor have access to your credit card information.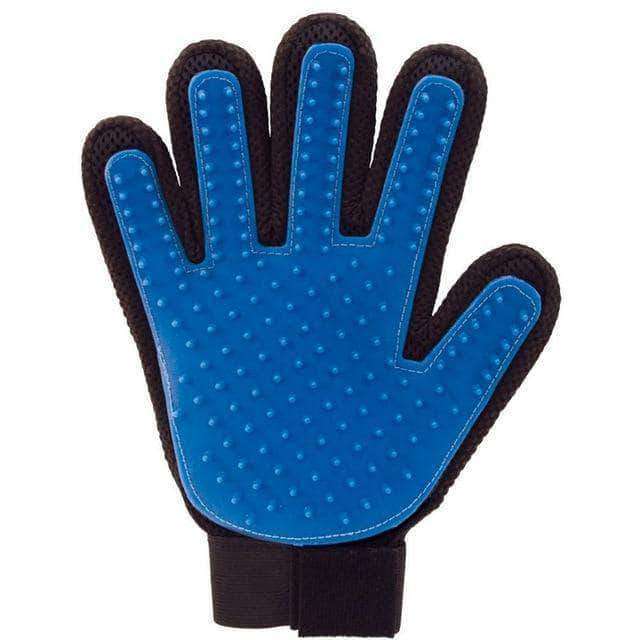 Pexmon 1pc Pet Grooming Glove | Hair Remover Brush, Gentle DeShedding for Cats & Dogs