Roll over image to zoom in







Description
🌎 Exclusively on Ooala.com
✈️ 5-10 day global shipping
📦 Returns accepted within 30 days
🦟 Effective Solution - ultrasonic pest control is equipped with the latest chip to enhance the ultrasonic waves, and it constantly changes the ultrasonic frequency between 22-65KHz to disturb and irritate the nervous system of pests, and force them to leave your home and never become
🦟 No noise in the Bedroom - can influence your sleep, suitable for the area of 80-120 square meters. Since ultrasound cannot penetrate walls and solid objects, It is recommended to put one in one room
🦟 Easy to Use - plug the pest reject ultrasonic repelled into the socket, make sure to install it vertically 7-31 in away from the floor. And make sure there are no barriers like curtains or cabinets covering in front of the repellent devices
🦟 Safe for Human & Pets - pest destruct only affects the pests and inaudible to humans and pets. So, doesn't adversely affect pregnant women, child, baby even pets
🦟 Drive Pests Away Without Killing - pest control ultrasonic repellent has No poisons, No radiation, No chemicals, No odor. No need to clean up dead pests, no battery required, and cost little electricity. Gives you a 100% Safety and Eco-friendly home
PRODUCT DETAILS
The Cycle of Working Process

3-5 days - Pests become more active and start running away
1-2 weeks - Pests give up their shelter and move on to a new location
2-3 weeks - The auditory and nervous systems of pests will be destroyed
1 Month -Say goodbye to your pests problem for good

Features

1. RepelsBugs, Ants, Mice, Cockroaches, Mosquitoes, Spiders, Rats, and More
2. Eco-Friendly and Safe Design, no chemicals, no smell, non-toxic, and radiation-free. 100% safe for humans and pets.
3. The Insect & Rodent Repellent is effective in an indoor area up to 1200 sq. ft. It's widely used in homes, warehouses, offices, gardens, hotels, etc
4. Just plug our electronic pest repellers into the socket to compel pests from leaving your home, no need to clean up dead insects and pests anymore!

Package Include

6 pcs  Ultrasonic Pest Repellers

Note

1. This machine should be installed at 80~120 centimeters away from the floor and should be vertical to the floor and plug to the outlet.
2. Within 1 meter shall not have a large obstacle (that is not installed in the refrigerator, wardrobe, sofa, and other objects on the back).
3. It's normal that the mouse and vermin will increase at the beginning of the using days because they are getting away from the living place after the attack of the ultrasonic. Usually, it could take 3~4 weeks to notice results.
4. Please install the pest repeller near the areas where the rat or pests might visit. 10-30 inches above from the ground is recommended for crawling pest, while higher for the flying pest.

Payment & Security
Your payment information is processed securely. We do not store credit card details nor have access to your credit card information.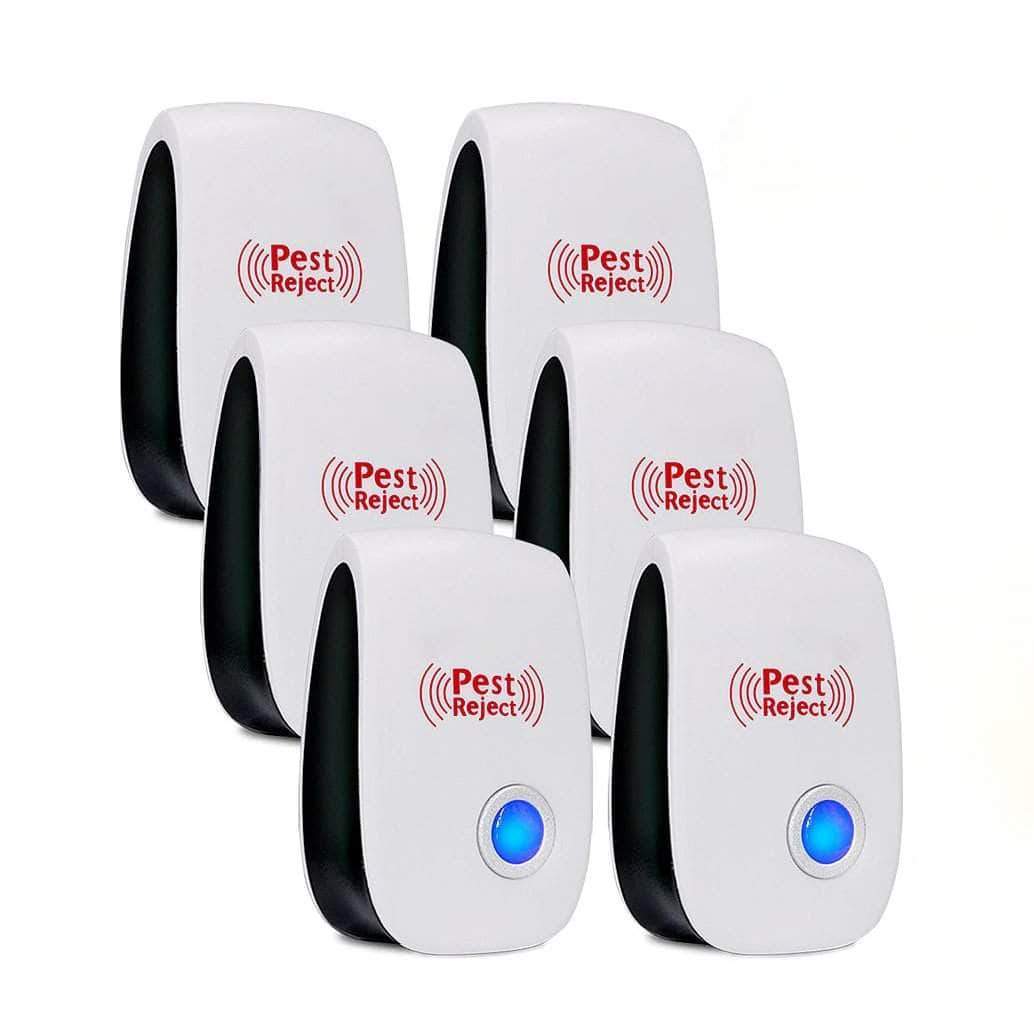 Pestbuzz Pest Control Ultrasonic Repellent Electronic Plug | 6 Pack