Roll over image to zoom in







Description
🌎 Exclusively on Ooala.com
✈️ 5-10 day global shipping
📦 Returns accepted within 30 days
💓 Structure: The stethoscope is mainly composed of a pickup part (chest piece), a conductive part (hybrid tube), and a listening part (earpiece), and its function is to transmit a syrup and transmit the internal sound of the patient's heartbeat to the doctor's ear.
💓 Applicable place: Monitor and assess a wide range of patients. Detect normal and abnormal sounds and rhythms. Useful in non-critical care environments such as a medical office, general ward, OB/GYN, ambulatory clinic, or urgent care.
💓 Exceptional performance: The single lumen design includes soft silicone ear tips that greatly reduce ambient noise for remarkable clarity of sound.
💓 Comfortable Fit: Soft and comfortable, each adjustable stainless steel ear tube is capped with a silicone ear tip. Comfortable in the ear, the soft silicone creates a seal to minimize ambient noise. The stethoscope is lightweight, easily kept close at hand by clasping around your neck or fitting into the convenient storage pouch.
💓 Scope of application: Commonly used to auscultate the heart, lungs, veins, and other organs of the sound changes. Used to amplify the pulse sound when measuring blood pressure, easy for doctors to diagnose the respiratory system, can be used to listen to the lungs of breath sounds, and identify lung lesions. Used auscultate the heart sound of the fetus cardiovascular, can be used to listen to heart rate, heart sounds, vascular murmurs, etc.
PRODUCT DETAILS
Features 
Ergonomic design, comfortably fit the listener's auditory meatus.
Suitable for hospitals, schools, clinics, or home use.
Easy to wear and operate.
Durable, latex-free design
The high-quality single-sided, handcrafted solid stainless steel chest piece
Double lumen tubing (two tubes in one) for superior transmission and insulation of sound while eliminating "rubbing noise"
Anatomically designed headset comfortably positioned for optimal sound transmission
Comfortable soft seal ear tips create an excellent acoustic seal to reduce ambient noise
Durable latex-free tubing and a robust headset that can be reliably flexed
Used as a diagnostic aid as part of the physical assessment of the heart, lung, and bowel sounds.

Specification
Material: Aluminum Alloy, Medical PVC Tube
Size: Tube Length: Approx. 610mm,
Tube Diameter: Approx. 8mm,
Chest Piece Diameter: Approx. 46mm
Package Weight: Approx. 85g (With Plastic Bag )
Package Included
1 x Single Head Stethoscope

Payment & Security
Your payment information is processed securely. We do not store credit card details nor have access to your credit card information.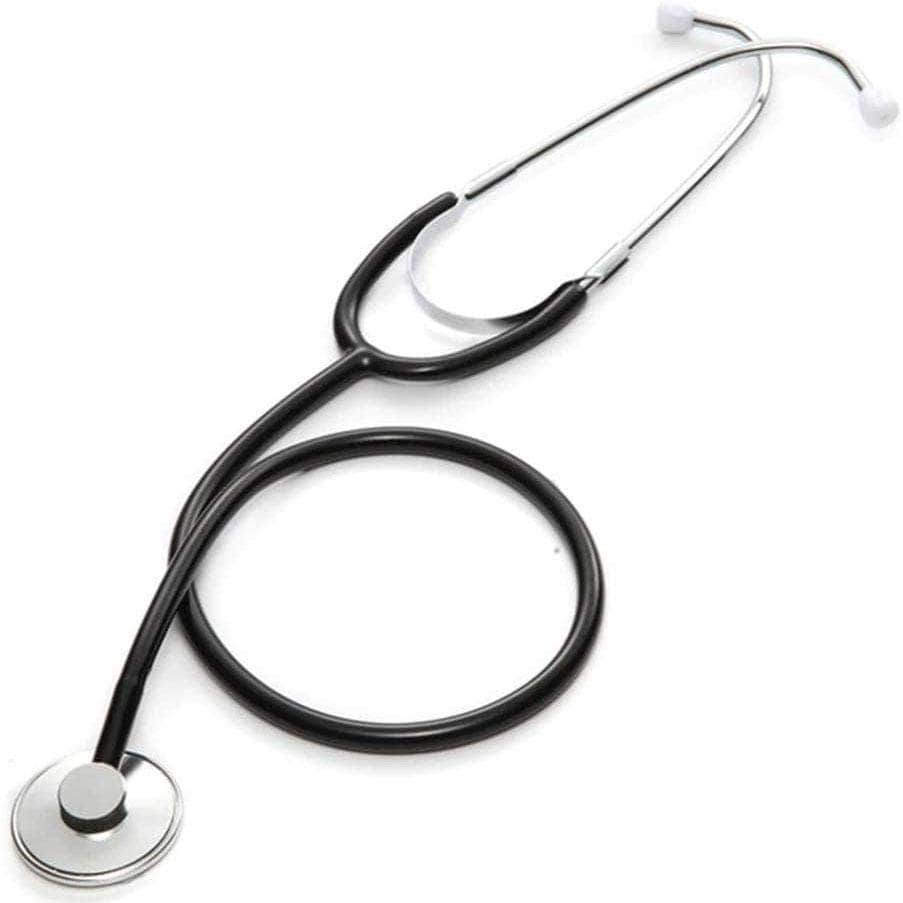 Racrt Portable Single Head Stethoscope | Professional Cardiology Tool