Roll over image to zoom in





Description
🌎 Exclusively on Ooala.com
✈️ 5-10 day global shipping
📦 Returns accepted within 30 days
⚡Defrost frozen foods faster - Made of premium thermal conductive aluminum to speed up the thawing process, it is eight times faster than at room temperature.
⚡Natural and safe - No chemicals, no odor, no electricity needed, our meat defrosting tray is the safest way to defrost frozen food quickly while preserving all the original flavor and nutrition of your food.
⚡Eco-friendly design - This thawing board is made with high-precision nano surface design to keep the tray and counter clean. It has a groove design that allows liquid to be drained away.
⚡Easy to use and clean - Simply place frozen food onto the thawing plate and it will defrost faster. No hot water needed, no microwave use, no fire, or sharp knives. It is dishwasher safe, or use sponge or cloth to wash.
⚡Quality guaranteed - Our defrosting tray is made of food-grade aluminum alloy for long life and would be a great gift for anyone who loves to cook.
PRODUCT DETAILS
Product Overview
Fast, natural defrosting! Thaw frozen food with no electricity, water, or microwave with MadFood Defrosting Tray. Frozen chicken breasts, steak, pork, or lamb chops, and more can be defrosted in 30-60 minutes depending on thickness. Thinner meat, like burgers, sausages, fish and seafood, and bacon thaw even faster.
Versus other inefficient methods:
Defrost by microwave - lose part of the nutrition and make the food half-done.
Water thawing - easy to grow bacteria, waste of time, and lose part of taste.
Natural defrost - waste too much time before cooking and more chances to grow bacteria.
Note:
Try to put the foods on the plate evenly.
Do not use sharp material to clean the plate.
Do not use the thawing plate like a cutting board.
Care & Maintenance:
Hand wash is recommended. Do not use wire brushes or steel wool to clean the surface. Do not use it as a cutting board. Knives and sharp utensils may damage the surface and diminish the quality and durability of the defrosting tray.
Package Includes:
1 x defrosting tray - Size 29.5 x 20.8 x 0.2cm
Payment & Security
Your payment information is processed securely. We do not store credit card details nor have access to your credit card information.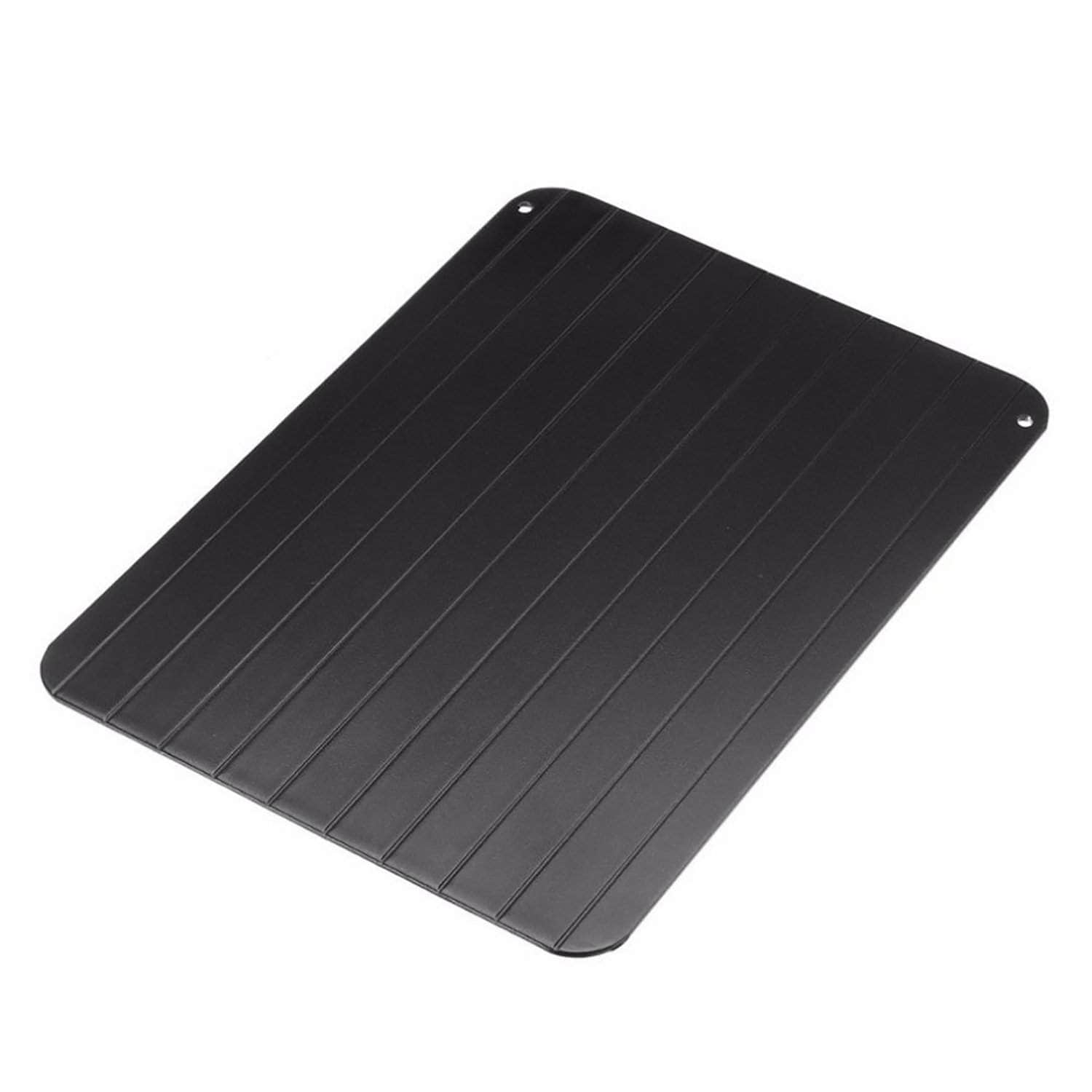 MadFood Defrosting Tray | Thaws Frozen Food Faster