Roll over image to zoom in







Description
🌎 Exclusively on Ooala.com
✈️ 5-10 day global shipping
📦 Returns accepted within 30 days
✅ Portable and Handheld Design: This steam inhaler just 4 inches high and 1.7 inches in diameter. Only 115 grams of weight makes it lightweight and portable. It comes with two masks, both for kids and adults. It's very helpful for anyone who uses one in their daily life or for travel.
✅ Effective and Silent Atomization: The mesh inhaler creates a super fine mist in which size is no more than 5um for better absorption, it's more efficient for atomizing that gives you quicker results and relief. The virtually silent operation allows you to use it anywhere.
✅ One Button Operation: This personal cool mist inhaler is easy to operate as it features a one-button operation system. It ensures that you get the best tubeless and cordless operation anywhere and anytime as per your need.
✅Two Power Supply: You can easily use anywhere with USB cable (included) or you can use 2AA batteries(not included), but do not use these two power supply at the same time.
✅Wide Range of Applications: The portable inhaler can be widely applied to home inhalation treatments, beauty skincare, air humidification. It is ready for use anywhere, anytime, and is particularly suitable for children and individuals who want to maintain an active lifestyle.
PRODUCT DETAILS
This nebulizer is a mesh type nebulizer for treating the upper and lower respiratory tract.  
The nebulization and inhalation of medication prescribed or recommended by a physician can prevent diseases of the respiratory tract, treat the side effects of these disorders, and accelerate healing.
The device is suitable for inhalation at home. Medicines should only be inhaled when instructed by a physician. 
Inhalation should be performed in a calm and relaxed atmosphere.  Inhale slowly and deeply to enable the medicine to reach the small bronchi deep into the lungs.  
Portable size design for convenient carry
Inhaler with a super fine mist
Silent atomization with virtually noiseless
One button for easy operation
Two masks for both adults and kids
Specifications:
Mains connection: 100-240V, 50-60HZ; 0.15A
Input: 3V/1A;
Oscillation frequency: 100kHz ± 10%
Condensation rate: ≥0.25ml/min.
Atomized particles: ≤5um
Medication flow rate: approx. 0.4ml/min.
Volume: max.10mI
Product weight: 115g±10%
Size(L*W*H): 45x45x100mm
Housing material: ABS
Package Includes:
1 x Portable Nebulizer
1 x Child Mask
1 x Adults Mask
1 x Mouthpiece
1 x USB Cable
1 x Manual
Note

The device has an automatic switch-off function. To prevent damage to the mesh, the device switches off automatically when the medicine/liquid has been almost entirely used up.
Do not use the device if the medicine container or water tank is empty.
Payment & Security
Your payment information is processed securely. We do not store credit card details nor have access to your credit card information.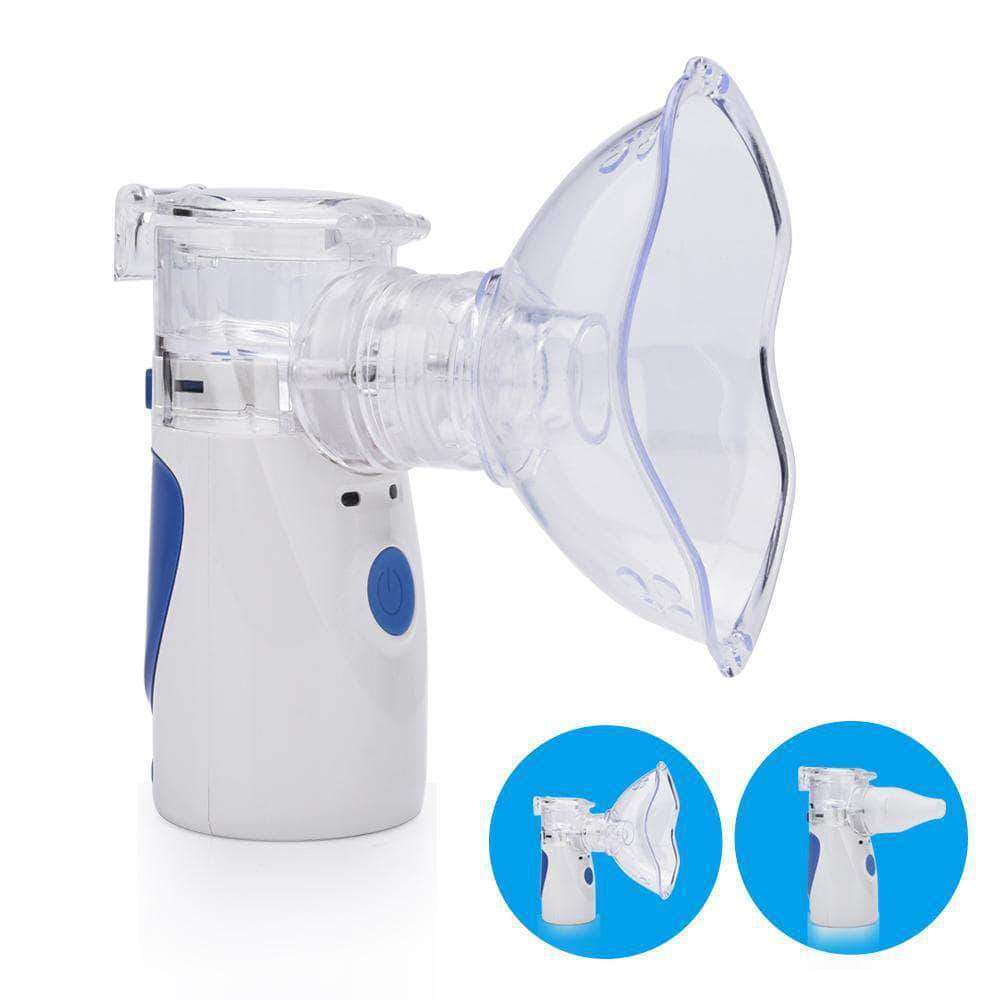 Cepier Portable Handheld Nebulizer Inhaler for Adults, Kids and Babies