Roll over image to zoom in


Description
🌎 Exclusively on Ooala.com
✈️ 5-10 day global shipping
📦 Returns accepted within 30 days
🐕Easy Training Dog Whistle - Use the whistle to stop barking instead keep yelling pet's name, ultrasonic sound training tool to teach your dog unlimited commands such as recall, sit, come, stop, bark, stay, and toilet training.
🐕Adjustable Frequency Whistle - This dog whistle can be adjustable to multiple frequencies which can easily train your dog unlimited commands, rotate the adjustable nut to find a suitable pitch frequency for your puppy.
🐕Outstanding Bark Control Whistle - Dog whistles are very popular to train your dog without hurting your pet through shocks and other means. It is an effective barking control tool to help you solve this issue by ultra-sonic sound.
🐕CONVENIENT - Train your dog with whatever commands without any restrictions. Please note: WagNest Dog Whistle requires multiple training sessions for your dog to follow your commands. Blow consistent blasts and use the rewarding-positive-behavior approach to make your dog a listening and obedient friend. And please be patient.
PRODUCT DETAILS
This Dog Whistle is designed for dog training, the frequency produced isn't of effect on a person, but very useful for dogs, it will sit up, come here, eat, sit down, etc.
Great for recall over long distances
The keyring loop is included
Please be aware of this fact they are not totally silent.
How to Use a Silent Dog Whistle:
1) Firstly decide how you want your dog to respond to the whistle. The sound from the whistle will work a lot like a command, such as "come" or "sit" once your dog has learned what it means, so before you begin you need to decide what you want that response to be. Dog whistles work well for calling dogs, especially from far away. Or you can use the whistle as a deterrent, blowing it when you want your dog to stop whatever he is doing without you having to yell.
2) Start training your dog to respond to the whistle like you would any other command. If you want your dog to come when the whistle is blown, start by blowing the whistle when your dog is in another room. When she comes to investigate the sound, reward her with treats and praise. If you want the whistle to be a deterrent for bad behavior, only use it when your dog is misbehaving, so he associates it with being scolded.
3) Be consistent. Like any training, if you want your dog to associate a whistle with a particular response, it is important to use the whistle only for that command. If you want your dog to come when you blow the whistle, do not blow it when he or she is already next to you. Until the dog is familiar with what the whistle means, make sure to reward the behavior you want with lots of treats and praise, to reinforce the action.
Specifications:
Material: Metal & Plastic
Length: 8cm
Weight: 14g
Package Contains:
1 Dog Training Whistle
Payment & Security
Your payment information is processed securely. We do not store credit card details nor have access to your credit card information.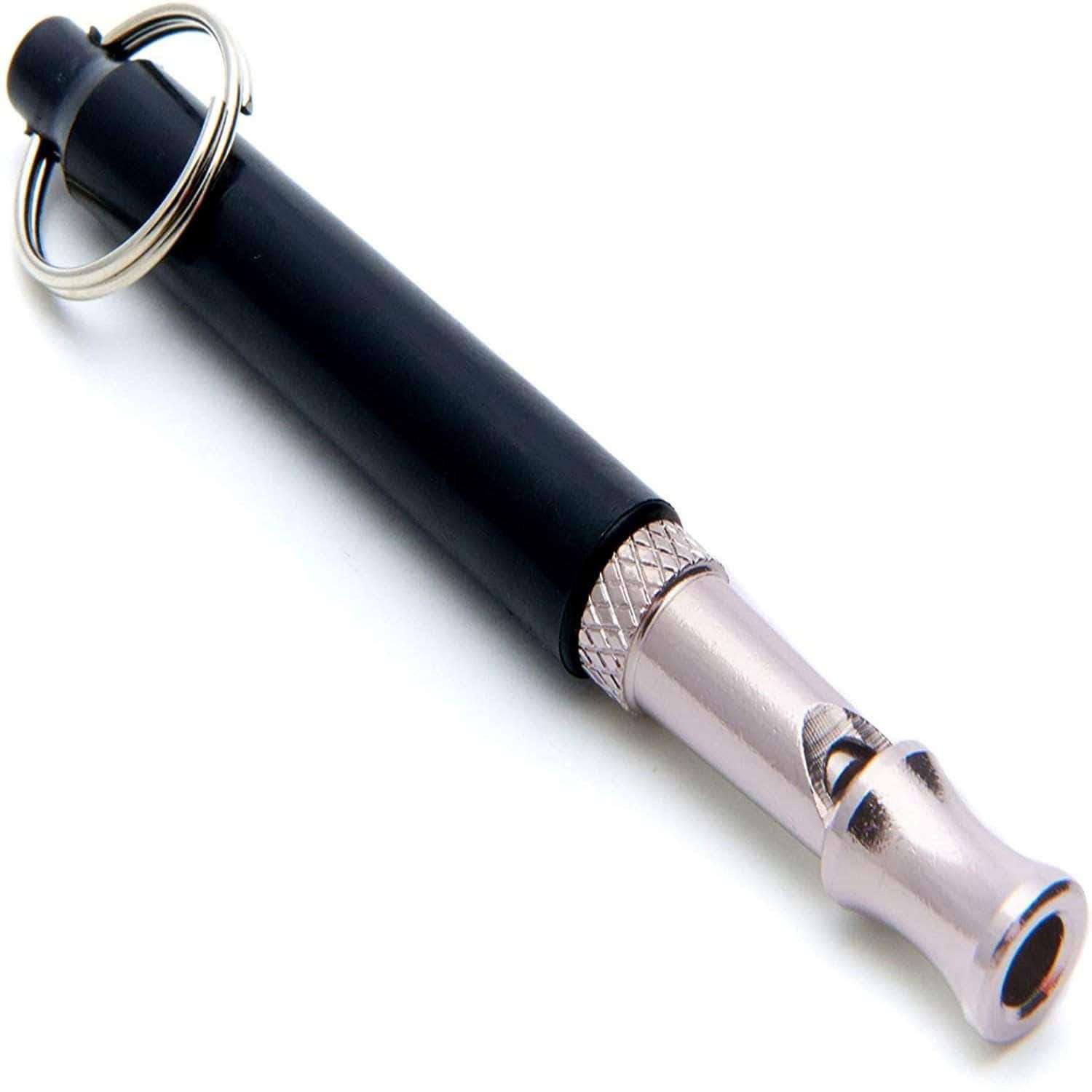 WagNest Obedience Training Dog Whistle, Safe Ultrasonic Device Stops Barking, Adjustable Pitch