Roll over image to zoom in





Description
🌎 Exclusively on Ooala.com
✈️ 5-10 day global shipping
📦 Returns accepted within 30 days
✔️Improve And Increase Your Flexibility. Looking for safe yet highly effective ways to enhance your flexibility? Athletiqo is the answer! Our fitness strap helps bridge the gap for those that don't yet have the flexibility. Use the strap to connect in simple stretches and over time your body will become more flexible and supple. It can also be used as a Physical Therapy Strap for PT sessions to allow increased movement with support.
✔️Feel The Quality In Your Hands. 100% Cotton Strap is safe to use, better than those plastic ones which do harm to your skin. Ensure a non-slip grip without tiring your hands. What makes our yoga straps so special is the extreme attention to detail. We have rigorously tested our yoga straps in order to ensure their safety, durability, and comfort. You can use our yoga straps for injury recovery, stretching, outdoor workouts, gym exercises, or physical therapy, and maximize your performance!
✔️Choose Your Lengths To Suit Any Yogi. Our yoga strap is the perfect length for basic poses and it's great for the taller yogis, less flexible yogis, or people looking for some more advanced wrapping or poses. Our stretching strap is the perfect piece of equipment for athletes. From football to yoga our stretching strap will provide the perfect blend of comfort and durability to provide all of your stretching needs.
✔️Adjustable Metal D-Ring. This strap is made of high quality thick and reinforced cotton and has 2 adjustable D-ring designed at one end of the strap. Moreover, we use thicker metal D-rings and weld the conjunction to make sure of your safety. While enjoying the shoulder relaxation, you can maintain balance and hold poses longer with more confidence since the easy-release D-ring metal buckle holds the strap securely in place.
PRODUCT DETAILS
Achieve Progressive And Comfortable Stretching.
If you are looking for a fitness strap that will enhance your Yoga flexibility or relieve your muscles and joint pain, Athletiqo fitness strap is your ultimate answer!
Get that Yoga Pose Now
This yoga strap will help you achieve deep stretches and longer holds than any training partner would normally help you achieve.
Get it to increase your flexibility and achieve that yoga poses you've been aiming for! Ideal for targeted stretching and toning of muscles in the back, legs, arms, core, shoulders, and more.
Use It anytime!
You can Use this Stretch Strap at the gym while working out, at home for physical therapy treatment, or simply at the yoga studio to achieve your body goals.
At last! The perfect tool for any time you want to stretch!
Highly Recommended by Professionals.
Our stretching strap is safe, keeps you at ease and steady in long hold stretches. It is highly recommended for:
Relieving pain in your joints and muscles.
Improving flexibility and mobility.
Assisting you to get those hard to reach poses.
Enhancing your sports warm-ups.
Strengthening and toning your muscles.
Physical therapy treatment.
Patients recovering from injuries or surgery.
Used by physiotherapists, chiropractors, and osteopaths in their practice.


Specifications
Material:Polyester-cotton blend
Length: 183cm/71.37''(approx)
Width: 3.8cm(approx)
Color: Blue & Pink
Package Includes
1x Yoga Stretch Strap
Payment & Security
Your payment information is processed securely. We do not store credit card details nor have access to your credit card information.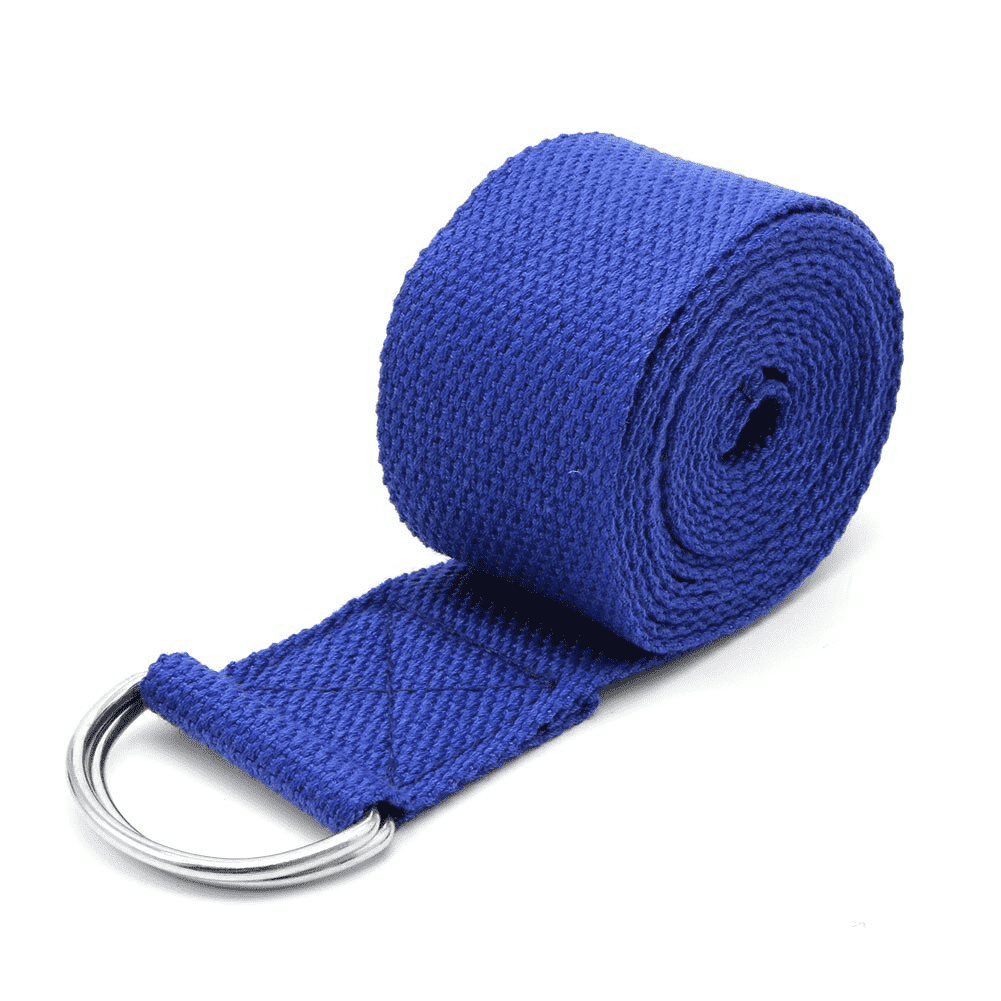 Athletiqo Yoga Stretch Strap & Resistance Band | D-Ring Fitness Yoga Belt